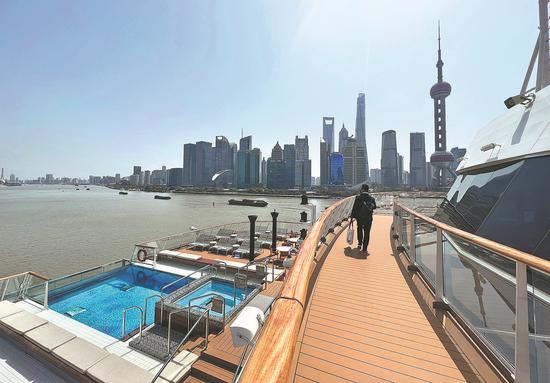 A passenger walks on the deck of China Merchants-Yidun berthed in Shanghai in March. (Photo for China Daily)
By 2035, the Chinese cruise market will reach a scale of 14 million passengers per year, according to the Several Opinions on Promoting the Development of China's Cruise Economy document that was issued by 10 ministries including the Ministry of Transport and the National Development and Reform Commission in 2018.
Following the path of high-quality development, it is expected that the industrial and economic contribution of international cruises to China will reach 550 billion yuan by 2035, according to the report.
Still, after three years of suspension of cruise trips due to the pandemic, the rebound of the Chinese cruise industry will take time to return to pre-pandemic levels. The experience of the European and US cruise market indicates that after the market restarts, it takes a relatively long time to deploy itineraries, resume operations and prepare marketing, Royal Caribbean said.
"Overseas cruise markets took almost 1.5 to 2 years to rebound to pre-pandemic levels, but we think the Chinese recovery will be faster. The sustainable development of the Chinese cruise industry, reform and opening-up is essential, and a more international, legalized and market-oriented environment is also expected by the whole industry," Liu said.
Meanwhile, Norwegian cruise line operator Viking Cruises said that as the tourism market is recovering strongly and demand for outbound travel is rising, the announcement of plans to resume international cruises departing from Chinese ports has been encouraging. The policy will greatly boost confidence in the recovery of the entire cruise tourism market and help international tourism exchanges and cooperation, Viking said.
In response to the plan's call, China Merchants Viking Cruises, a joint venture established by Viking Cruises and China Merchants Shekou, became the first international cruise operator to announce on March 30 a 15-day round-trip cruise tour to Japan departing from Shenzhen or Shanghai as the homeport for outbound in-depth exploration.
As the first cruise company in China to announce the resumption of international itineraries departing from mainland ports, China Merchants Viking Cruises said it will strictly implement the relevant requirements and plans to set sail in June.
The company said it would formulate a rigorous health protection scheme, make adequate preparations in terms of safety and emergency management and provide differentiated outbound products to bring a high-quality cruise experience for Chinese travelers. This will also be an important step for it to enter the international cruise market.
"After the pandemic, the gap between escalating consumer demand and supply of quality cruises is more prominent among Chinese travelers. High-end tourists desire a higher-quality cruise experience," said Tan Wee Hoon, senior vice-president of product development and marketing, China Merchants Viking Cruises.
"Therefore, the focus of the cruise line operator also needs to change from volume to quality and from price reduction to value addition. We have been more focused on providing a high-quality and luxurious cruise experience for well-traveled Chinese customers," Tan said.
Although COVID-19 has had a negative impact on the global cruise tourism market, the sector is on a recovery track and passenger traffic in 2024 is expected to exceed the levels seen in 2019 before the pandemic, the Cruise Lines International Association forecasts.
China Merchants Viking Cruises said cruise tourism is an important aspect of China's tourism consumption transformation and upgrading. It will also strengthen communication and cooperation with various destinations along the route, develop more in-depth shore excursions and drive the sustained expansion of domestic consumption.
The company will create differentiated high-end cruise products to attract precisely targeted audiences such as consumers prioritizing comfortable experiences and middle-aged elites seeking new experiences with the cruise journey.
It will also continue to cultivate Chinese coastal cultural cruise trips, which connect domestic coastal ports. In addition to developing more ports based on the existing coastal routes, the company will focus on developing more popular overseas and domestic destinations, and further diversify its itinerary plans, it said.