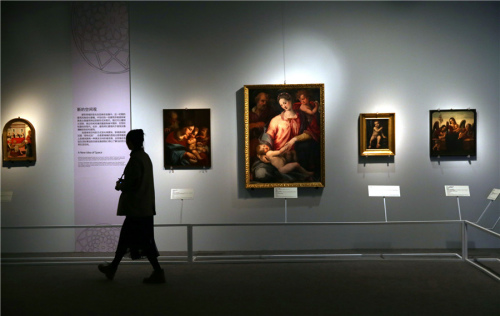 Most of the displayed paintings, part of a special program, had never left Italy. (Photo by Zou Hong/China Daily)
To better explain a painting depicting a wedding between Eleanor de Medici and a duke, a set of costumes appearing in the work were also included in the exhibition.
"We wanted to display not only artworks but also a panorama of the time," she says. "Everyday articles from the Renaissance era were often neglected in previous exhibitions."
Still, Christianity remains a major theme throughout the highlighted oil paintings, like Madonna with Child painted on canvas by Francesco Morone and Maria's Nativity by Girolamo di Benvenuto rendered on wood panel. And, the oil-on-canvas work The Procession to Calvary is even believed to have been created by master painter Sandro Botticelli's workshop.
Rarely seen half-completed works by Federico Barocci, a late 16th century painter, are also on display in an attempt to show how Renaissance oil paintings were created.
Separately, several sculptures from ancient Rome and a few paintings from the Byzantine era are also exhibited to provide a reference for visitors about the origins of the Renaissance.
Although the Capital Museum is known for the intimate design of its galleries' interiors, Huang Xueyin, Chinese curator of the exhibition, switched to a simple, decorative style for this show to give visitors more room to view the paintings from a distance, without distractions.
"Exhibitions on Renaissance Italy have been held in China many times," Huang says. "But most of these were displays of fine art, and there was little emphasis on helping viewers understand why these works were created in the first place."
The Chinese team spent more than a year choosing the artifacts from the Sleeping Beauty list and drafting explanations on the works using background information.
"Context is important," she says. "We had to select works that would be accessible to the Chinese public, and also provide them with a glimpse into people's daily lives at that time."
The experience feels less like a visit to an art gallery, and more like a presentation on the social history of the Renaissance.
As the artifacts on display are a combination of functionality and high art, Guido also explains that they represent the early prototypes for what is known as modern Italian design today.
"This exhibition will trigger more collaboration in the cultural industry between China and Italy," Guido says. "It will build up a platform for a new Silk Road, which is about sharing knowledge, increasing dialogue and sustainable development."