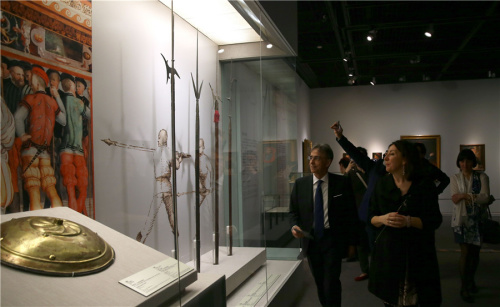 Federica Zalabra (right), curator of the exhibition, introduces armor from Renaissance Italy to visitors. (Photo by Zou Hong/China Daily)
All the exhibits in the Beijing exhibition were sourced from this list.
"Except for a very few items, the vast majority of them had never left Italy before," Guido adds.
As the best known Renaissance art form, paintings dominate this collection-and this exhibition includes some of the biggest names in art history.
For example, Federica Zalabra, the Italian curator of the exhibition, recommends two paintings on display in particular, which were both created by Titian's workshop in the 16th century.
Titian painted Portrait of Charles V in Armor for the Holy Roman Emperor in 1548. Due to its popularity, Cosimo I de' Medici, the wealthy Italian banker who sponsored many of the top artists during the Renaissance, as well as other European nobles later ordered facsimiles of this portrait to be made.
The original work and all the other replicas were lost to history, barring one survivor. The facsimile currently on display, which was ordered by Medici, is the only remaining portrait in existence. Restoration of the painting was completed just before it was shipped to China for the exhibition.
In the other painting from Titian's workshop, an unnamed man's inner world and emotions are vividly reflected in his facial expressions.
A special section named Men and Women has been created at the exhibition, Zalabra explains, to reflect the focus on humanitarianism during the Renaissance era. While some paintings of the time portray aristocrats such as members of the House of Medici, many more depict ordinary people and scenes from their daily lives.