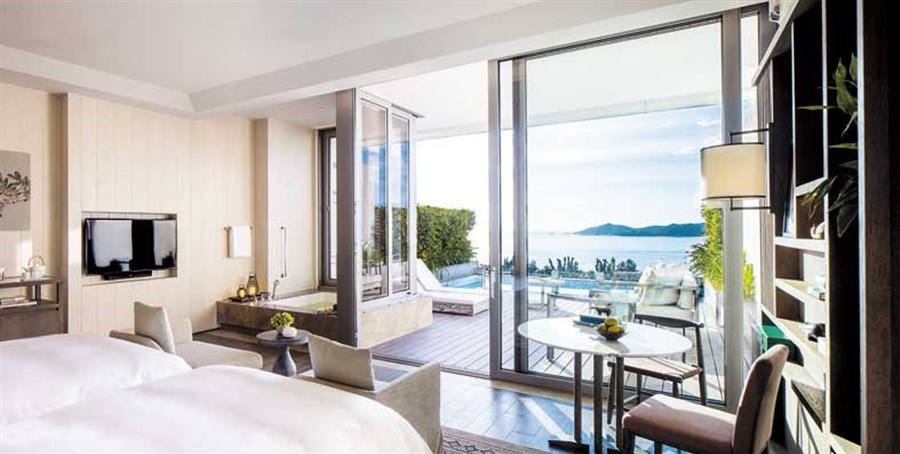 Ocean View Pool Twin Room
Rosewood Hotels & Resorts recently announced the ultra-luxury brand's first Chinese mainland resort, Rosewood Sanya, on the paradise island of Sanya.
All 246 guestrooms at Rosewood Sanya are ocean facing, and 45 guestrooms include balcony plunge pools.
In keeping with the brand's "A Sense of Place" philosophy, the resort's design incorporates wood, tribal totems and aquatic elements to create a serene and contemporary space, celebrating the beauty of nature and the serenity of the ocean.
Rosewood Sanya is part of an integrated resort set within 16 hectares of landscaped gardens surrounding the Sanya Forum, the largest convention center in Haitang Bay. The hotel's 3,425 square meters of meeting space includes a 1,500-square-meter pillarless Grand Ballroom and six function spaces. It also offers The Pavilion, a sophisticated residential-style venue with a spacious outdoor terrace of full sea views.
State-of-the-art facilities and impeccable service support a range of personal and business events from exclusive board meetings to product launches and to red carpet galas and legendary weddings.
Rosewood Sanya's art curations are a journey into the realms of nature, creativity and inspiration. In the entrance lobby, guests are greeted by several striking pieces of artwork. The first is a 7-meter-high abstract floral oil painting by Argentina-based artist Carlos Arnaiz; the second painting is a unique creation by South Korean artist Byun Dae-young — "Ice Cream Bear;" and lastly, the "Tower of Babel" by Wuhan, China-based artist Ding Hao is in the corner of the lobby. It is carved from bamboo and wood and represents the spirit of freedom and truth.
At the HAI infinity pool bar, on the 13th floor, is perched a 2-meter-high sculpture of a man wearing a diving mask, which represents the celebration and bravery of the human spirit, exploring the deep sea and to furthest reaches of the universe.
"Octopus and Fish" is a sculpture made of steel wire, steel sheets, silver solder and gold flakes. The masterpiece of British-born artist Hill Thomas is hung on the East Kitchen wall.
As if diving into the floor, "Mahogany Whale Tail" by West Virginia, U.S.-based artist Thomas Givens displays a powerful force connecting the space between the majestic 14th-floor reception. The dramatic full sea view of the area at such a high level, captivates guests with a stunning full view of the South China Sea.