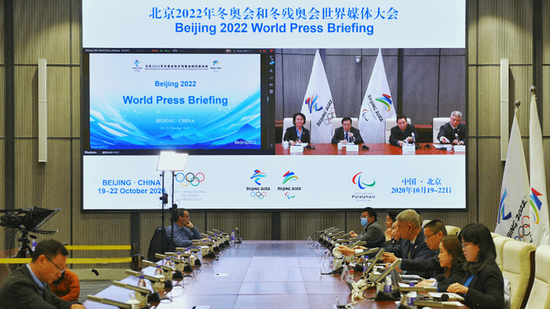 Beijing 2022 World Press Briefing is held online in Beijing to brief the stakeholders worldwide about the ongoing preparations for the Beijing Winter Olympics, Beijing, October 19, 2020. (Beijing 2022 Organizing Committee)
The virtual World Press Briefing (WPB) for the Beijing 2022 Olympic and Paralympic Winter Games kicked off on Monday.
The four-day conference, held online due to the COVID-19 pandemic, has attracted over 400 representatives to tune in including those from the International Olympic Committee (IOC), the International Paralympic Committee (IPC), National Olympic Committees (NOCs), National Paralympic Committees (NPCs), International Federations (IFs), and worldwide media, among other organizations.
Organized by the Beijing 2022 Organizing Committee (BOCOG), the online press briefing is an opportunity for stakeholders to familiarize themselves with the ongoing preparations leading up to the Games.
Taking into considerations the inability to carry out on-site tours, the conference will take advantage of simulation technology to present the construction and progress, spatial layout, and vehicles and personnel flow designs of the venues.
Fifteen functional areas including media operations, venue constructions, registrations, accommodations, transport as well as securities will be touched upon.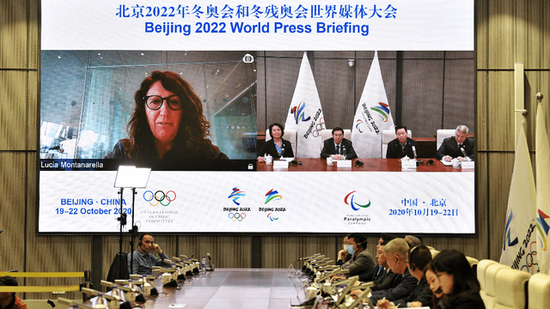 IOC Media Operations chief Lucia de Montanarella attends the virtual conference and delivers remarks, Beijing, October 19, 2020. (Beijing 2022 Organizing Committee)
"Quality services for media organizations are an integral part of our work. We give high priority to media operations and will honor our bid commitments. We have done and will continue to do everything necessary to meet the pre-Games and Games-time needs of the media for Games coverage," Zhang Jiandong, executive vice president of the BOCOG said in his address.
Zhang went on to express confidence in Beijing's smooth preparations for the Games despite the challenges brought by the coronavirus and vowed to provide "comprehensive, efficient and convenient" media services.
This world press briefing is the first under the watch of Lucia de Montanarella, who was named IOC Media Operations chief in January.
"I think that the commitment of Beijing 2022 trying to deliver high standard services and facilities to the media is testified by the table that we see, with the top management of BOCOG participating at the opening of this world press briefing," Montanarella said during her opening remarks.
"It means a lot to the worldwide media to know that BOCOG gives the interests of the media such a high priority in their organization."
(With input from Xinhua news agency)