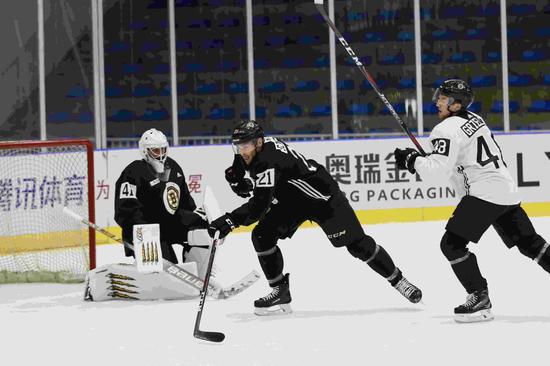 Boston Bruins players practice at the AZ Ice Sports Club Rink on Sept. 18, 2018 in Beijing. /CGTN
Shi Songyuan paused to consider his answer to the question, and the air is full of angst. The longtime National Hockey League (NHL) enthusiast and part-time coach has been asked what might impede the development of hockey in China and seemed stumped for an accurate reply.
"I think the biggest problem is money. Many Chinese parents could not afford to put their kids in hockey," he said with a brow furrowed in concentration. "One could end up paying more than 10,000 yuan (1,455 US dollars) just for hockey equipment, and the training is not cheap either."
"Another thorny issue is a severe shortage of good coaches in China. You can't grow the game without proper coaching. You have to make plans to get kids hooked on coming back on the ice."
Shi sat in the second deck of stands at AZ Ice Sports Club in Beijing while the Boston Bruins practiced on the ice below him. He has spent the first half of practice talking with CGTN.
Earlier in the day, he, along with dozens of other Chinese coaches, took part in a coaching clinic organized by the NHL, absorbing every word from former Ottawa Senators coach Paul MacLean and former NHL assistant Dan Lacroix.
The coaching clinic is part of an effort to promote hockey at the grassroots level in China as the 2018 O.R.G. NHL China Games kicks off in Beijing with the Boston Bruins and Calgary Flames lock horns at Cadillac Arena on Wednesday night.
The NHL dropped the puck in China for the first time last year, when the Los Angeles Kings and Vancouver Canucks met twice in Shanghai and Beijing. The Bruins and Flames are the third and fourth NHL teams traveling to the Middle Kingdom. And the teams had their first encounter in Shenzhen on Saturday when the Bruins won 4-3 in a thrilling shootout.
With Beijing hosting the 2022 Winter Olympics, the popularity of hockey in China is getting fresh impetus and the NHL intends to seize the opportunity to create further global growth in the game despite enormous challenges facing hockey in China.
"You don't introduce a new sport to a country overnight," NHL Commissioner Gary Bettman said at a press conference on Saturday. "You have to do it over the long term and that's what we're committed to."
"We are certain we can help grow the sport here in China," he added. "The number of young people and families that are knowledgeable about the game is surprising to me."
Here comes the Sunny's family who definitely fits this description.
Sunny is a hockey aficionado who indulges in NHL games while her husband avails himself of any opportunity to play hockey in his spare time. And their six-year-old daughter Mocha, despite her tender age, has already been on the ice for almost three years.
"I accompany Mocha to take hockey training courses at least five days a week, and she just loves it," Sunny said with a contented smile.
Though it is an expensive hobby which costs the family over 100,000 yuan (14,556 US dollars) each year, Sunny vowed that the entire family will stick to it as long as their baby girl still has interest in playing hockey.
Boosted by such ardent fans and the explosive growth of China's emerging middle class, NHL Commissioner Bettman even hinted at the prospect of playing regular-season games in China in the future. "I think that at some point we will get to the stage where we will be considering regular season games," he said.
"Although we haven't had the full discussions that we have to have internally and with the players, but I think if it's going to happen it will probably be at the beginning of the season so that we can start things out and get the players back to play their schedule."
The Commissioner also revealed the NHL has begun preliminary discussions with its business partners to return to China next year, with Chongqing a possible host city.
"There is no shortage of clubs that are anxious to participate [in future NHL China Games], in part because it's a great bonding experience for the players and it's a terrific overall experience for the players," Bettman said.
NHL teams' resolve to make a full push into the Chinese market is evidenced by Derek Dun's recent move to the Bruins on a pro tryout contract. The 24-year-old goaltender, a Canadian of Chinese descent, spent his last season playing for Beijing-based Kunlun Red Star of the Kontinental Hockey League (KHL).
Dun, who will serve as Boston's emergency goalie in the Bruins' rematch with the Flames on Wednesday, still could not hide his happiness over this unexpected move.
"A month ago our team manager told me the news over lunch and my first reaction was disbelief," Dun told CGTN. "I had to ask him a couple of times if he is serious or not. It's a dream come true."
"I'm not feeling any extra pressure [due to my Chinese heritage]. I just feel honored to have the opportunity to represent China and help promote hockey throughout the country," he beamed.
However, as there seems to be a slight feeling of unease when he stands next to members of the Chinese media without the presence of a translator because of his limited command of Mandarin, the road ahead, both for him and for hockey in China, is bound to be long and full of bumps.
According to statistics from the International Ice Hockey Federation, there are 205 indoor rinks in China, with just over 12,000 registered players. But Dun insisted to CGTN that he remained confident in China's ability to develop competitive hockey in a short amount of time.
"I've seen a lot of growth in hockey here and a lot of growth from Chinese players, and many North American like us have also come over to China to play professional games," observed Dun.
"I think China is getting better every day, every year leading up to the [Beijing Winter] Olympics. There's still a lot of work to do but it's doable," he added.
Dun's optimism was echoed by Shi, who took a walk down memory lane and pointed out that when he started to play hockey 11 years ago, there was only three hockey teams in his age group in Beijing.
"Play against the same opponents every month really drove us nuts! But right now, some large hockey clubs in Beijing boast more than three teams," he said.
"The progress has been startling."