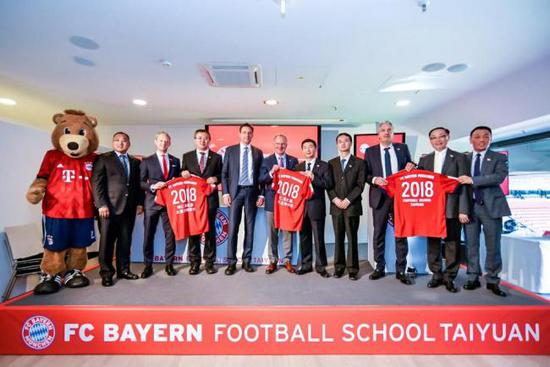 Representatives from FC Bayern and Shanxi Sports Bureau attend the signing ceremony for the opening of the FC Bayern Football School Taiyuan at the Allianz Arena in Munich, German, on Sept 6. (Photo/China Plus)
German football club Bayern Munich has officially announced the opening of an international football school in Taiyuan, capital of Shanxi province.
The announcement was jointly made by FC Bayern, Shanxi Sports Bureau and China Sports Futurity at the Allianz Arena in Munich on Thursday, Sept 6.
The FC Bayern Football School Taiyuan will be the first world top youth training system in Taiyuan.
The partnership includes a long-term exchange program in which FC Bayern youth coaches will give regular and intensive training in Taiyuan, and Chinese coaches and young players will be sent to Munich for further training. More exchange activities by the German record champions are also planned in Shanxi.
"Chinese football has enormous potential," said Rouven Kasper, managing director of FC Bayern in China, "and we want to play our part in supporting and promoting development by means of our knowledge and our experience in the youth sector."
There has long been cooperation between China and Germany in football. The two governments signed a series of football-related agreements in 2016.
"We are confident FC Bayern, as one of the best football clubs in the world, can help to develop football in Shanxi with their expertise and youth policy," said Luo Huining, party secretary of Shanxi.