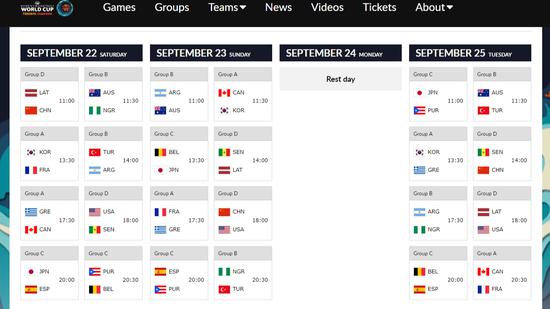 Daily schedule for the 2018 FIBA Women's World Cup /Screenshot from offcial website
The daily schedule for the 2018 FIBA Women's World Cup in Spain has been released. Team China in Group D will meet their first rival Latvia on Sept. 22 before challenging the defending champion, Team USA, one day later and Senegal on Sept. 25.
16 teams will be attending the tournament which will be happening from Sept.22 to 30. As they will be divided into four groups, and the top ranking team of each group will enter the quarter-finals immediately while the second and third will compete in extra games for the other four spots.
Having regained the gold in women's basketball at the Asian Games for the first time in eight years, Team China are now on a break before departing for Spain to prepare for the World Cup. Head coach Xu Limin said that he will make some adjustments to the squad for the tournament. Furthermore, as China's biggest rival in Asia, Team Japan, have saved their best for the World Cup and only sent the bench team to Jakarta.
Back in 2014 at the IBA World Championship for Women in Turkey. China were in Group D with the US, Angola and Serbia. By defeating Angola in their second game, China made it into the elimination round and beat Belarus. Though they lost to Spain in the quarter-finals, China finished the tournament sixth of all 16 teams.
Since China are again in the same group with the U.S., it's basically "mission impossible" to get the top ranking. Meanwhile, with an obvious advantage over Senegal, Team China will have to take the win against Latvia for a relatively easier match-up in the extra games for quarter-final qualification.