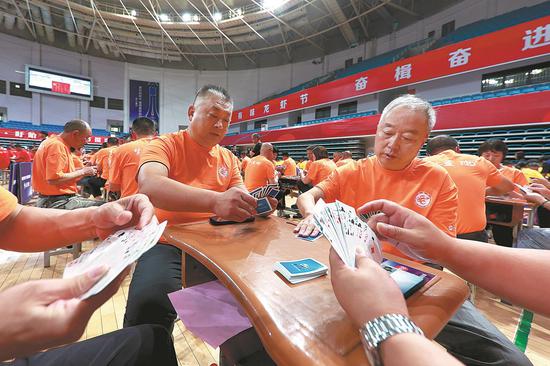 Players compete in a guandan competition in Huaian, Jiangsu province, in June. (Photo: Yan Huaifeng/For China Daily)
Emerging from a local pastime in Huaian, Jiangsu province in the 1960s, guandan or "throwing eggs", a tactical yet luck-based poker game, has slowly gained popularity across the whole of China with competitions now held nationwide throughout the year.
The game is played with two decks of cards by four players who form two teams, and follows specific rules. The players, who sit facing each other, aim to defeat the opposite pair by playing out all their cards before their opponents do. The game is strategically based on poker hands such as straights, full houses, pairs or single cards.
Lan Guowei, deputy secretary-general of the Jiangsu Province Guandan Sports Association, said the game has intrigued over 60 million people countrywide. This surge in popularity can be credited to enthusiastic promotion by local governments and avid card players.
The eclectic band of guandan fans comprises individuals from various sectors, including finance, government, military and academia, he said.
"The game's attraction lies in its competitive nature and simplicity in understanding the basic rules. The thrill heightens as the game progresses and various tactics come into play. Success in the game is measured not just by tactics and cooperation but there is an element of luck as well."
Jin Kuang, a researcher from the Huaian Guandan Association, said that official guandan competitions have been held in the city since the 1980s, and attributes the game's national popularity to the locals who introduced the game to different regions.
"As an effective social tool, it bridges the gap between various cultural backgrounds and intellectual levels, allowing everyone to unite at the card table," he said.
"It's especially popular in China's economically vibrant Yangtze River Delta, and guandan has followed the area's money into new regions," said Zhu Yan, who works for a listed company in Wuxi, Jiangsu.
Zhu said guandan, unlike Texas Hold 'em, is better for social bonding, and is often played over tea or before or after dinner.
Signs of its popularity in the finance industry are evident. The Jiangsu Financial Industry Association held a guandan competition in August, which saw wide participation from financial professionals in Zhenjiang. Similarly, the China Development Bank had an online guandan competition for its employees in May. Suzhou Financial Union's April competition attracted 64 financial institutions.
While the elite may try to socialize and strengthen connections on guandan tables, many elderly people like to watch others playing the game all day long on TV or online.
Zhang Yang, who lives in Nanjing, Jiangsu, worries about her mother's health when the 71-year-old watches guandan competitions on TV from afternoon to midnight.
"What concerns me is that she is too dedicated to the game. The uncertainty and competitiveness of the game influence her blood pressure," she said, but she encouraged her mother to play the poker game with her friends to spend leisure time and improve the agility of her brain.
Authorities are trying to make guandan, sometimes dubbed "Chinese bridge", into a more formal sport.
On Saturday, Hainan province held its first competitive guandan training camp and more than 70 members of the provincial-level guandan clubs participated.
Also in August, Guizhou province established the country's third provincial guandan association — after Jiangsu and Hainan provinces — in the capital Guiyang.
China Qiyuan, a management center affiliated with the General Administration of Sport in charge of board and card games such as chess and bridge, officially standardized the game's rules and issued guidelines on holding guandan competitions last year.
The center has held a series of open guandan tournaments this year, and the game will also become an exhibition event for the upcoming Fifth National Mind Sports Games to be held in Hefei, Anhui province, in late October and early November. Much has been done and more is underway to make guandan an official sports activity in China, according to Lan.