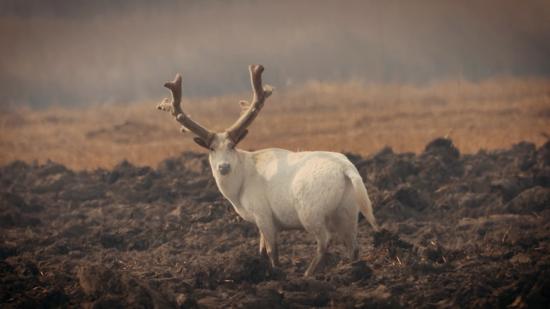 A rare white-colored Milu deer, a rare species native to China, has recently been spotted in the Qilihai wetland area of Tianjin, a municipality in North China. (Photo provided to chinadaily.com.cn)
The white-colored Milu deer, a rare species native to China, has recently been spotted in the Qilihai wetland area of North China's Tianjin municipality.
The group of Milu deer resides on an island within the wetland, a designated nature reserve located in the Ninghe district, which used to be a coastal bank, according to the district's publicity department.
Prior to 2017, the wetland had been subject to excessive farming, even though some parts were popular with tourists.
In 2011, a Milu deer island was established as a tourist destination, and 10 Milu deer were introduced for visitors. Dedicated caretakers were appointed to be responsible for their feeding and care.
Since mid-2017, the local government has suspended tourism activities and restricted farming, converting a significant portion of the area into nature reserve. The efforts involved relocating residents who used to live in close proximity to the wetland.
Thanks to these efforts, the deer population has reverted to a wild state, and their numbers have steadily increased.
The appearance of the wild deer came as a surprise. Experts have determined this coloration is uncommon within the species and have confirmed it is not albinism but rather albefaction, according to the Ninghe Publicity Department.
Yu Wensheng, a former keeper of the Milu deer, mentioned he approached the deer after spotting it.
"The deer is quite unique compared to other males and shows no ambition toward females," he said. He further explained that male deer enter a period of rivalry with other males for mates when reaching the age of three.
Zhang Xinghua, a seasoned veterinarian based in Ninghe district who was also responsible for the previous Milu island, suggested the white deer is the third generation of a female deer he and his colleagues introduced from Beijing Milu Park in 2011.
"In 2011, we went to Beijing Milu Park to introduce 10 Milu deer, including six females and four males. I noticed one female had a tendency to be light yellow, which was different from the others," he explained.
Yu said he remembered it was born in May 2017.