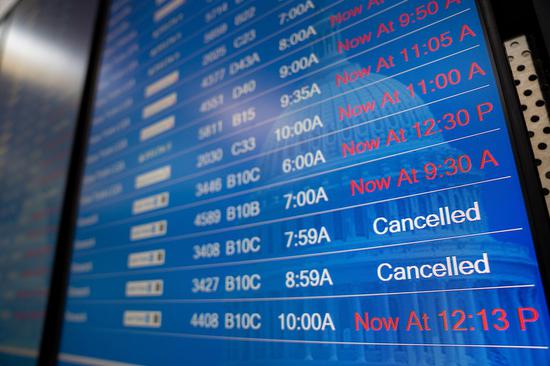 A flight information screen is seen at Ronald Reagan Washington National Airport in Arlington, Virginia, the United States, Jan. 11, 2023. (Xinhua/Liu Jie)
The Federal Aviation Administration (FAA) said Wednesday morning it is lifting the ground stop as normal air traffic operations are resuming gradually across the United States following a system outage.
The FAA, which regulates all aspects of civil aviation in the country, wrote in its latest update that it continues to look into the cause of the initial problem.
The U.S. government agency announced earlier in the day that it was "working to fully restore the Notice to Air Missions (NOTAMs) system following an outage."
The FAA previously ordered airlines to pause all domestic departures until 9:00 a.m. ET (1400 GMT) to allow the agency to validate the integrity of flight and safety information.
A NOTAM is a notice containing information essential to personnel concerned with flight operations but not known far enough in advance to be publicized by other means, according to the federal agency.
White House press secretary Karine Jean-Pierre tweeted that U.S. President Joe Biden had been briefed on the FAA system outage.
"There is no evidence of a cyberattack at this point," Jean-Pierre wrote, adding that Biden has ordered a full investigation into the causes and that the FAA will provide regular updates.
FlightAware, a website that tracks delays and cancellations, showed nearly 4,600 flights to, from, and within the United States as being delayed as of 9:30 a.m. ET (1430 GMT), and more than 800 flights canceled so far.