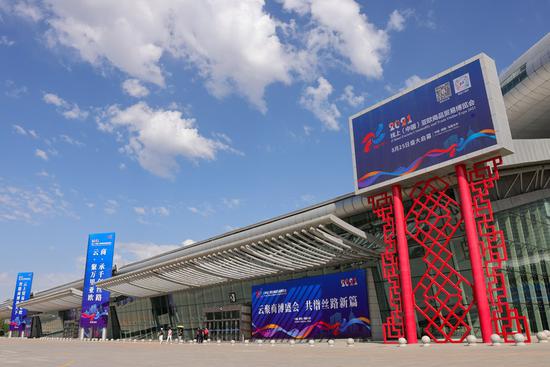 Photo taken on Aug. 24, 2021 shows Xinjiang International Convention and Exhibition Center, the venue for the (China) Eurasia Commodity and Trade Online Expo 2021, in Urumqi, northwest China's Xinjiang Uygur Autonomous Region. (Xinhua/Ding Lei)
Special: Xinjiang
Hosted by the government of northwest China's Xinjiang Uygur Autonomous Region, a press conference on the region's exchanges and cooperation with other countries and regions was held in Beijing Tuesday.
With its unique location, rich resources, and preferential policies, Xinjiang is attracting people from all walks of life to invest and start businesses in the region, Xu Guixiang, spokesperson for the regional government, told the press conference, broadcast live to more than 60 countries and international organizations simultaneously.
Mao Hui, deputy director of the regional development and reform commission, said at the press conference that there are 55 national-level key open and industrial development platforms in Xinjiang. These include the economic development zones of Kashgar and Horgos, which have created favorable conditions for promoting investment and attracting industrial clusters.
The region has signed 21 cooperation agreements with 25 countries and international organizations and established economic cooperation relations with 190 countries and regions, Mao added.
Ma Haitao, deputy director of the management committee of the Kashgar economic development zone, said in 2021, this zone posted a total output value of 5.08 billion yuan and a trading volume of 8.6 billion yuan (about 1.3 billion U.S. dollars). Now, it hosts more than 4,000 registered enterprises, including 216 foreign trade enterprises, Ma said.
Xinjiang posted over 67.4 billion yuan in foreign trade in the first five months of this year, up 30.9 percent year on year.
On the region's international exchanges in the field of education, Xu said that since 2016, a total of 338 people in the region have received funds from the government to study in 22 countries, and seven colleges and universities in Xinjiang have received nearly 20,000 international students.