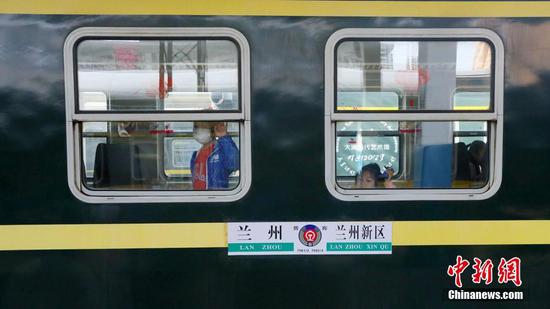 A train for children heading for Lanzhou, Gansu Province, May 30, 2021. (Photo/China News Service)
China's national railway regulator recently published a draft document which proposes altering the discount ticket policy for children to be based on their age instead of height.
The draft regulation said children aged 6 to 14 will be allowed discounted tickets, and those over 14 years of age need full-price tickets. A child under 6 years of age may ride trains free with an adult passenger.
The draft, published by the National Railway Administration last week, will solicit public opinions until Nov 27.
Under the existing railway policy, children get discounted tickets according to their height. Those 1.2 to 1.5 meters tall are allowed half-price tickets, while children under 1.2 meters are free to ride.
The revised ticket policy is hailed as reflecting the country's development in railway transport and people's health.
"In 1997 when the original children's discount ticket policy was formulated, railway transport capacity was quite strained," said Zhang Tingzhu, an expert from the Ministry of Transport, adding that it was difficult for railway employees to check the identity of each passenger without a real-name ticket purchasing system in place.
"Measuring the height of children thus became a relatively easy way (to handle underage passengers)," he said.
In the past, disputes sometimes occurred between parents and railway workers when an unusually tall child exceeded the upper height limit set by the discount policy.
The new discount ticket rule based on a child's age rather than height would prevent such controversies from happening in the future, said Liu Junhai, a law professor at Renmin University of China.
Thanks to improvements in healthcare and living standards, Chinese children are growing taller.
Statistics released by the National Health Commission last year showed that in 2019 boys and girls aged 6 to 17 were respectively 1.6 centimeters and 1 cm higher than in 2015.