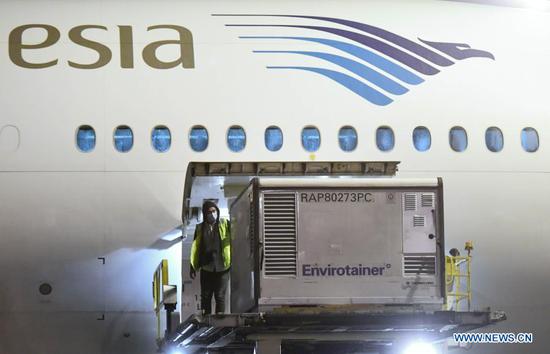 A worker unloads vaccine supplies from China's Sinovac at the Soekarno-Hatta International Airport in Tangerang district of Banten Province in Indonesia, Dec. 6, 2020. COVID-19 vaccines from China were in good condition upon arrival in Indonesia and refrigeration vehicles for delivery have been well prepared to keep the vaccines undamaged and safe, Health Minister Terawan Agus Putranto said on Monday. A vaccine storage warehouse has also been prepared to accommodate 1.2 million doses of the Sinovac vaccine from China with cold chain management following the procedures, he said, adding that the COVID-19 vaccines were expected to be distributed to provincial health offices in several parts of Indonesia before being sent to district or city health offices.(Muchlis Jr/Presidential Palace/Handout via Xinhua)
Special: Battle Against Novel Coronavirus
As global vaccine providers speed up trials and various countries scramble to set up distribution, December has become a flashpoint for the global vaccine race as COVID-19 vaccine candidates approach the end of late-stage testing.
Due to their technological advantage and relatively easier logistics, Chinese-developed inactivated vaccines are being secured by more countries for their first dose. Many are pinning their hopes on the traditional vaccine type and expressed their confidence in its reliability.
Indonesia received its first shipment of 1.2 million doses of the COVID-19 inactivated vaccine called CoronaVac from China on Sunday to prepare for a mass inoculation program.
The Indonesian government plans to bring in 15 million more doses of semi-finished vaccine products this month, while as many as 30 million semi-finished doses are expected to arrive in January to handle the pandemic, which has killed more than 17,740 in Indonesia, said President Joko Widodo on Sunday in a television speech.The Global Times learned from vaccine producer Sinovac on Monday that the doses are proportionally diluted vaccine concentrates that will be further processed by Indonesian state-owned vaccine producer Bio Farma to package it in bottles or syringes.
Cooperation with Indonesia was achieved by direct communication between the two countries, as opposed to how Indonesia cooperates with Western pharmaceutical companies like AstraZeneca, which was done through third parties like the COVAX Facility, a WHO-coordinated pooled procurement mechanism for new COVID-19 vaccines, according to the Sinovac.
Indonesian Foreign Minister Retno Marsudi said on Monday that his country has closely coordinated with Chinese authorities, especially with Chinese Foreign Minister Wang Yi.
"In the last week or two, communication has not been carried out day to day, but hour by hour," said Marsudi, thanking the Indonesian Embassy in Beijing and Sinovac for facilitating matters "with great care and in accordance with applicable regulations."
Brazil's most populated state Sao Paulo secured its first dose with China's CoronaVac, as it received the first batch of 120,000 doses in November and 600 liters of vaccine concentrate on Thursday, making Brazil the first country in Latin America to receive a vaccine against the coronavirus.
On Wednesday, Turkey's health minister announced an immunization plan using a Chinese-developed COVID-19 vaccine later this month to cope with a surge in infections and deaths.
Turkish Health Minister Fahrettin Koca said the country had signed a contract to buy 50 million doses of the COVID-19 vaccine from China's Sinovac.
Koca said the vaccine produced by the "inactivated method" is more reliable because "it is the best known method in history and its long-term consequences are well known."
The more recently-developed mRNA vaccines, developed through genetics of the virus, "worked well in the short term but we do not know what effect it will have in the medium and long term," Koca said in an interview with local media on Friday.