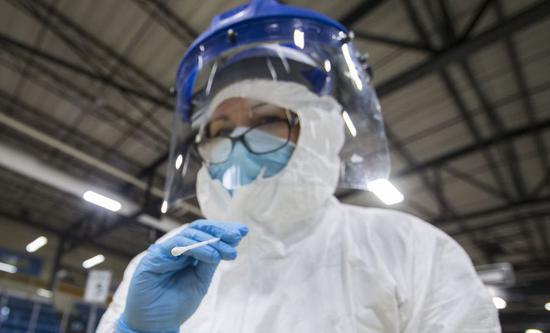 A medical worker shows a testing swab at a drive-thru COVID-19 testing center in Hamilton, Ontario, Canada, on April 23, 2020. (Photo by Zou Zheng/Xinhua)
Special: Battle Against Novel Coronavirus
The novel coronavirus spread extensively around the world since late 2019 and the single "Patient Zeroes" are absent in most countries, a latest study by the University College London (UCL) Genetics Institute has shown.
The study identified 198 recurrent genetic mutations in the virus by screening the genomes of over 7,500 viruses from infected patients around the globe, the University said in a statement on Wednesday.
Detected recurrent mutations may indicate ongoing adaptation of the virus to its novel human host, according to the study published in the Journal Infection, Genetics and Evolution.
"The results add to a growing body of evidence that SARS-CoV-2 (novel coronavirus) viruses share a common ancestor from late 2019, suggesting that this was when the virus jumped from a previous animal host, into people," said the statement.
"This means it is most unlikely the virus causing COVID-19 was in human circulation for long before it was first detected," it added.
The study highlights how the virus may be adapting and evolving to its human hosts, which provides clues on "direct drug and vaccine design."
Some parts of the virus genome had very few mutations, as mutations identified were "not evenly distributed across the virus genome." Researchers said those invariant parts of the virus could be better targets for drug and vaccine development.
"A major challenge to defeating viruses is that a vaccine or drug might no longer be effective if the virus has mutated. If we focus our efforts on parts of the virus that are less likely to mutate, we have a better chance of developing drugs that will be effective in the long run," said co-lead author Professor Francois Balloux at the UCL in the statement.
"We need to develop drugs and vaccines that cannot be easily evaded by the virus," he added.