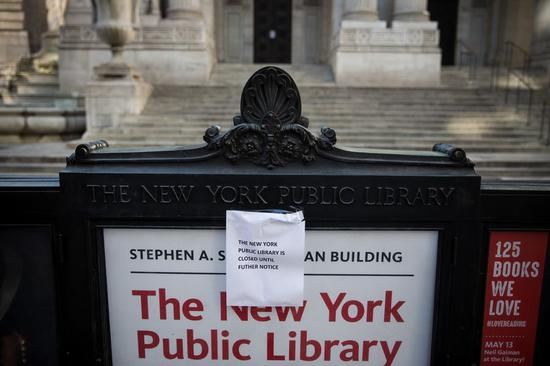 Photo taken on March 15, 2020 shows a notice announcing the closing of the New York Public Library in New York, the United States. (Photo by Michael Nagle/Xinhua)
Special: Battle Against Novel Coronavirus
The U.S. states of New York, New Jersey and Connecticut will restrict public gatherings and close all nonessential businesses to contain the COVID-19 outbreak, governors of the three states announced on Monday.
Effective by 8 p.m. EST Monday, the states will ban gatherings of 50 people or more, including private parties. Restaurants and bars will be limited to only serve takeout or delivery orders and movie theaters, bars, gyms and casinos will all close.
"When states can work together well, it makes all the difference in the world," said New York Governor Andrew Cuomo at a joint media call with his fellow governors of New Jersey and Connecticut.
"We have agreed to a common set of rules that will pertain in all of our states, so don't even think about going to a neighboring state because there's going to be a different set of conditions," he noted.
"With all we are seeing in our state, and across our nation and around the world, the time for us to take our strongest, and most direct, actions to date to slow the spread of coronavirus is now," said Governor of New Jersey Phil Murphy.
"We have shared interests, and a patchwork of closures and restrictions is not the best way forward. I know that because of this collaboration, we will save lives," said Ned Lamont, governor of Connecticut.
Cuomo again criticized the federal government for its lack of action and coordination in countering the pandemic, saying that it has "been behind from day one on this crisis."
"States, frankly, don't have the capacity or the power to make up for the federal government," he added.
In an open letter issued on Sunday, Cuomo urged President Donald Trump to mobilize military to help create hospital beds in places such as military bases or college dormitories. He also called on the president to authorize states to certify more testing labs and methods.
"I make these suggestions not as a Democrat but as one of the nation's most senior governors and a former cabinet secretary who knows the capacity of the federal government," said Cuomo. "Today, let's work together as Americans. Time is short."
Over 700 COVID-19 cases have been reported in New York state, with more than 300 from New York City. New Jersey has seen 109 cases and Connecticut has 26, according to media databases.