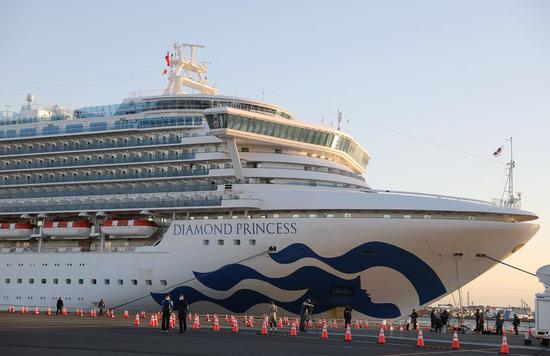 Photo taken on Feb. 6, 2020 shows the "Diamond Princess", a cruise ship which has been kept in quarantine at the port of Yokohama in Japan. (Xinhua/Du Xiaoyi)
Special: Battle Against Novel Coronavirus
The Israeli Health Ministry announced Friday that one of the Israelis returned from the virus-hit Diamond Princess cruise ship tested positive for the novel coronavirus disease (COVID-19) hours after arriving in Israel from Japan.
The female patient is being kept in quarantine in the Sheba Medical Center in central Israel and will remain there, said the ministry in a statement, adding that the patient was infected outside of Israel.
The woman was one of 11 Israeli passengers who were brought back to Israel on Friday after having initially tested negative for COVID-19 on board the ship. There is no additional information on the condition of her health.
Another four Israelis were hospitalized in Japan after testing positive for the virus.
The remaining passengers who have returned all tested negative by the ministry's central laboratory, the ministry's spokesperson Eyal Basson told Xinhua.
The Diamond Princess cruise ship was initially carrying around 3,700 passengers and crew from more than 50 countries and regions. The vessel was put under quarantine at the port in Yokohama on Feb. 5 after a passenger who had disembarked in Hong Kong was found to be infected with the virus.