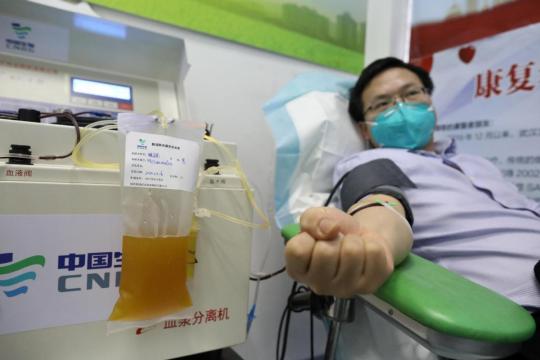 Zhang Zhengle, who has recovered from novel coronavirus infection, donates plasma at Hubei General Hospital in Central China's Hubei province, on Feb 16, 2020. (Photo: China Daily/Zhu Xingxin)
Special: Battle Against Novel Coronavirus
(ECNS) -- More than 100 patients who have recovered from novel coronavirus infection have donated their plasma to help other severe patients fight infection, said Xu Nanping, vice minister of Science and Technology, at a press conference in Beijing on Friday.
The donated plasma can be turned into therapeutic products to treat 240 severe and critically-ill patients, Xu said.
Plasma therapy has been proven effective, it was added.
Of the first batch of 11 patients undergoing convalescent plasma therapy in Wuhan, the center of the epidemic outbreak, all had seen their conditions improve while six saw their viremia disappear after two to three days of treatment.
Some critically-ill patients outside Wuhan also experienced stable condition after convalescent plasma therapy.
Convalescent plasma therapy was included into the latest version of diagnosis and treatment of the novel coronavirus on Wednesday by National Health Commission (NHC).
Xu said 20 teams have been sent to 11 provinces to collect convalescent plasma, with the ministry to release a series of relevant standards to ensure procedural safety about one month later.
By the end of Thursday, confirmed infections on the Chinese mainland had reached 75,465, with 18,264 people having been discharged from hospital after recovery. Unfortunately, 2,236 people have died of the disease.