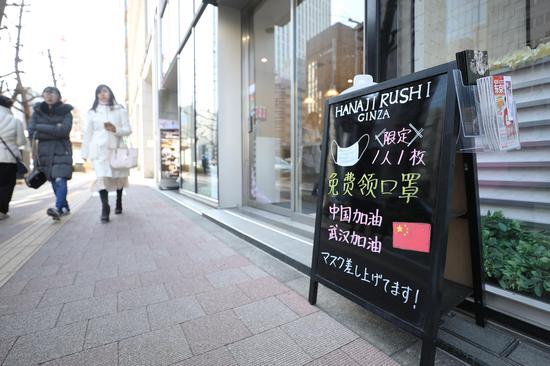 Photo taken on Feb. 11, 2020 shows a signboard conveying support to China in fighting the novel coronavirus epidemic at Ginza in Tokyo, Japan. (Xinhua/Du Xiaoyi)
Special: Battle Against Novel Coronavirus
The novel coronavirus outbreak remains in its initial stage in Japan, a Japanese expert panel under the health ministry said here on Sunday.
The Japanese government held a meeting on Sunday to discuss expanding countermeasures, as more infections have been found in the capital of Tokyo, as well as Aichi Prefecture.
"We agreed that the present situation represents the early stage of a domestic outbreak. This could progress further," Takaji Wakita, head of the National Institute of Infectious Diseases, who chairs the expert panel, said at a news conference after the panel's first meeting at the prime minister's office.
According to Wakita, the whole nation needs to act together to contain the spread of the epidemic. Patients with mild symptoms should recuperate at home, while those with severe symptoms should receive treatment as soon as possible.
Meanwhile, Health Minister Katsunobu Kato said that the government needs to "take countermeasures to deal with the possibility that patients could increase."
Noting that the situation is changing all the time, Prime Minister Shinzo Abe called for the strengthening of the disease detection system, as well as the expansion of the treatment and counseling system.
According to local media, the novel coronavirus has infected more than 510 people in Japan, including 454 people quarantined on a cruise ship.