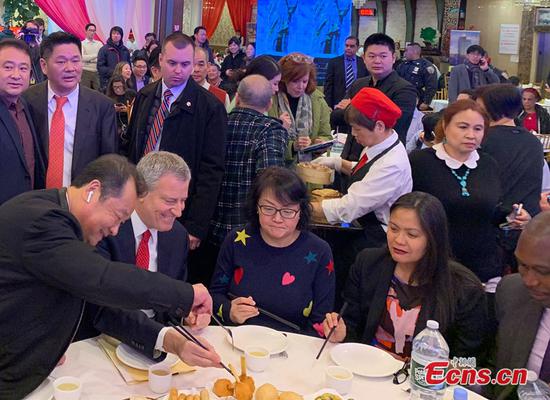 New York City Mayor Bill de Blasio visits a Chinese restaurant in Flushing, New York, Feb. 13, 2020. (Photo: China News Service / Wang Fan)
Special: Battle Against Novel Coronavirus
New York City Mayor Bill de Blasio visited a Chinese restaurant in Queens on Thursday, in an effort to ease anxieties about the novel coronavirus and encourage New Yorkers to continue their support for Asian-American owned small businesses in their neighborhood.
"In hard times, New Yorkers know to stand by their neighbors," de Blasio said. "We're in Flushing today to embrace Asian-American owned small businesses and say to all New Yorkers: New York City's Chinatowns are open for business."
Following the novel coronavirus outbreak in China, many businesses and restaurants in New York's Chinatown, Flushing and Sunset Park suffered. However, there have been no cases of COVID-19 in New York, and all potential cases tested by the CDC have come back negative.
The risk for COVID-19 in New York City remains low, said Health Commissioner Dr. Oxiris Barbot.