Special: Battle Against Novel Coronavirus
Central China's Wuhan City, the epicenter of the novel coronavirus outbreak, has decided to convert several venues in the city into makeshift hospitals to receive virus patients with mild symptoms.
So far, Wuhan International Exhibition Center, Hongshan Gymnasium and Wuhan Livingroom have started receiving patients. In total, these three venues can provide nearly 4,000 beds.
People are curious about the lives of the patients, thousands of whom have been admitted into these temporary medical facilities. Instead of being gloomy, patients in these hospitals have come up with ways to keep themselves busy and entertained.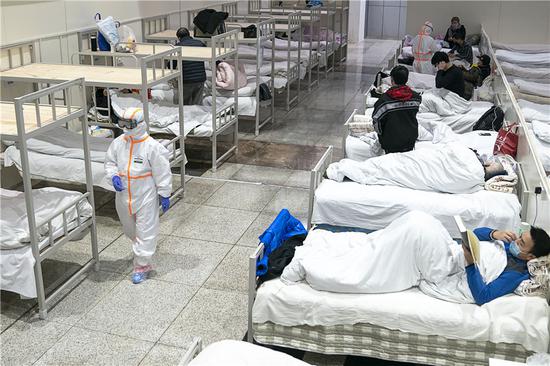 Photo of a male patient who was spotted reading a book in one of the makeshift hospitals in Wuhan gone viral on Chinese social media. /Photo via Hubei Daily
Videos of quarantined patients and nurses in protective clothing dancing together in a makeshift hospital in Wuhan have gone viral on Chinese social media. Many are amazed by these patients' vigor and positive attitude in fighting the disease.
A woman surnamed He is one of the patients. She told The Paper that dancing helps them ease stress and keeps them in a good mood, which could be helpful in recovering from the disease.
Apart from dancing, some videos also show nurses leading the patients to play Taichi, a type of Chinese martial arts with slow movements.
Doctors and nurses in the hospitals encourage patients with mild symptoms to do some gentle workout as it could help enhance their immunity.
Another patient who was spotted reading a book in one of the makeshift hospitals has also caught netizens' attention, as it is rare to see a coronavirus patient engrossed in a book.
The man, surnamed Fu, was later identified as a post doctorate student who currently teaches at a U.S. university. And the book he was reading was confirmed as Francis Fukuyama's "The Origins of Political Order," a book focused on modern state-building and the development of political institutions.
He was infected with the novel coronavirus when he came back from the U.S. to to visit his parents at his hometown Wuhan. He told Chutian Metropolis Daily that he really likes reading and didn't expect to be under the spotlight in that way. He urged the public to pay more attention to the medical workers who worked really hard to treat the patients.
These patients' positive attitudes toward the disease have won praises from netizens and fueled many comments on social media.
"That's really good. A positive and relaxing mood will help increase people's immunity, which is good for their recovery from the disease," said a Weibo user @gaigeshenmemingzihaone5.
A total of 42,638 cases of the novel coronavirus have been confirmed on the Chinese mainland, with 1,016 deaths, according to China's National Health Commission. As many as 108 new deaths and 2,478 new cases were reported on Monday.