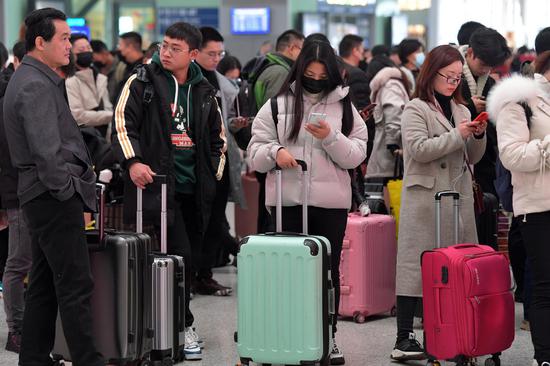 5e2b7ec3a3101282064db9db
Special: Spring Festival 2020
Chinese State Councilor and Minister of Public Security Zhao Kezhi on Friday stressed efforts to ensure security during the Spring Festival holiday.
Zhao made the remarks while inspecting police work on maintaining security in Beijing.
The police should actively prevent and resolve disputes, Zhao said, adding that the work to guard against terrorist incidents and emergencies should be strengthened.
He also urged the police to maintain smooth traffic during the holiday, and cooperate with other departments on the prevention and control of the pneumonia caused by the novel coronavirus.
150,000 police officers dispatched to ensure road safety on Chinese New Year's eve
Over 150,000 police officers were dispatched across China to ensure road safety on the first day of the week-long Spring Festival holiday, said the traffic management bureau of the Ministry of Public Security on Friday.
As of 6 pm Friday, no traffic accidents with more than five deaths had been reported.
More than 50,000 police vehicles were mobilized nationwide to ensure that people have a smooth drive on the road, according to the bureau.