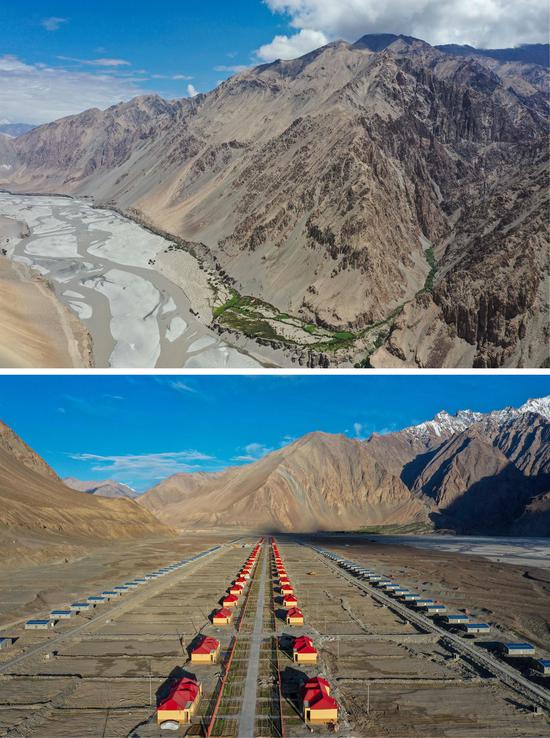 Combo aerial photo shows locals' place of residence before relocation on July 8, 2019 (top) and a resettlement housing site for locals on July 4, 2019 (bottom) in Tajik Autonomous County of Taxkorgan, northwest China's Xinjiang Uygur Autonomous Region. (Xinhua/Hu Huhu)
A total of 9,355 households have bid farewell to their dilapidated houses and moved into new ones in northwestern China's Xinjiang Uygur Autonomous Region this year, marking the end of poverty-stricken residents living in dilapidated houses in the region.
Sherihan Heyt's family, from Aratax Village, Shache County, is one of the 9,355. Sherihan's family had lived deep in the Kunlun Mountains for generations.
With much excitement, Sherihan is busy tidying the 80-square-meter new house, which is equipped with furniture and home appliances such as an end table, sofa, a TV stand and a refrigerator.
"Our old house was not far from here," Sherihan said. "The old house, courtyard and sheep pen would often be flooded during rainy seasons. Some of the walls of our old clay house collapsed, and the house became dilapidated."
However, changes have taken place in recent years. Villagers have moved to new houses, and new roads were built. "When I first arrived here several years ago, there were only mud and stony roads and no electricity or running water," said Li Xuebiao, the village's Party secretary.
"So many big changes have taken place in recent years. One major change is that we don't have to worry about floods anymore," Sherihan said while pointing in the direction of an ongoing conservation project in a valley not far from the village.
The Aratax water conservation project Sherihan mentioned is the biggest water conservation project under construction in Xinjiang. Upon completion, it will play a comprehensive role in flood control, irrigation and power generation.
Xinjiang made great efforts on renovating dilapidated houses in the region from 2014 to 2018 and completed the renovation of 395,400 households. The region allocated over 2 billion yuan (about 282 million U.S. dollars) of subsidies this year to renovate dilapidated houses in its rural areas.
Meanwhile, a total of 2.31 million people were lifted out of poverty during the period, with the poverty rate decreased to 6.1 percent from 19.4 percent.