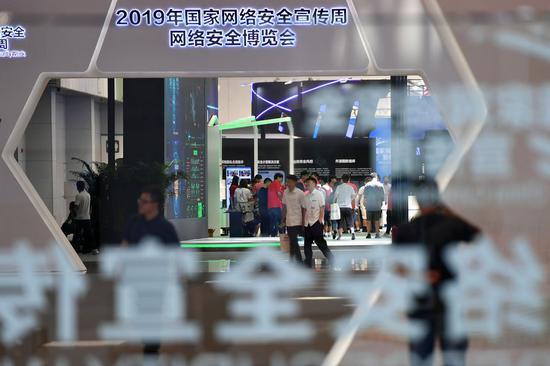 People visit the cybersecurity expo held at Tianjin Meijiang Convention Center in Tianjin, north China, Sept. 14, 2019. More than 100 cybersecurity and Internet enterprises take part in the expo. (Xinhua/Li Ran)
Chinese public security authorities had investigated 45,743 cases in the first 10 months in a special campaign against cybercrime, with 65,832 suspects caught, the Ministry of Public Security said Thursday.
Among the cases, 21,933 of the cases involved online fraud, 5,797 cases involved online gambling, and 2,868 cases concerned the abuse of personal information, said Wang Yingwei, a senior official with the ministry's cybersecurity division, at a press conference.
Several cybercrime cases of public concern were handled in the campaign, including cases involving criminal gangs that sold personal information or candid cameras, said Wang.
The campaign was launched in January 2019.