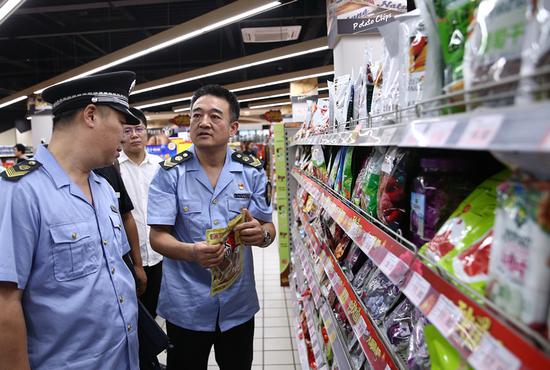 Inspectors check the food quality at a supermarket in Beijing's Xicheng district on Oct 9, 2019. (Zou Hong/China Daily)
Senior executives will face harsher penalties for violating food safety standards, according to a regulation set to take effect on Dec 1.
Company representatives or other responsible executives may have to pay a fine equivalent to up to 10 times their annual income for serious food safety violations, such as purposely violating a law or committing an offense that leads to serious consequences, according to the regulation released by the State Council.
A credit system to blacklist serious offenders will be established to deter such violations, the regulation said.
The regulation also requires improved cooperation between food safety regulators and public security departments to more effectively hold violators accountable.
The regulation, released in October, is based on the revised Food Safety Law, which was adopted in 2015.
Sun Meijun, deputy head of the State Administration for Market Regulation, said the new regulation aims to intensify supervision covering every part of the food sector and increase the cost of violations.
"In the past, usually only enterprises paid for food safety problems, which failed to deter violations effectively," she said.
Wang Zhenjiang, an official for legislation at the Ministry of Justice, said levying huge fines to company executives will urge them to take their duties seriously and prevent violations.
The new regulation also gives more specifics on various violations to help law enforcement, he said.
Although food safety has been improving in China over the past few years due to intensified law enforcement from authorities at various levels, many problems still remain, including low penalties for violations, insufficient technologies for effective supervision and lack of business ethics by some enterprises, Sun said.
Over the past few years, market regulators at various levels have handled more than 200,000 cases annually involving food safety violations.
"Any legal or regulatory violation in food safety must be severely punished according to law as a deterrence," she said. "Zero-risk is not available in food safety, but a zero-tolerance attitude must be adopted during supervision of the sector."
The regulation also intensifies food safety risk control-including improving risk evaluation for the use of pesticides, fertilizers and feed additives-boosts supervision over imported food and improves food safety standards.