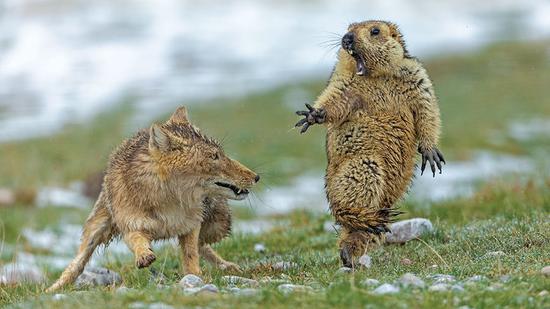 Chinese photographer Bao Yongqing's picture The Moment, taken on the Qinghai-Tibet Plateau, has won the Natural History Museum's Wildlife Photographer of the Year competition. The result was announced in London. (Bao Yongqing/Wildlife Photographer of the Year)
Encounter between fox and marmot wins wildlife competition
China's Bao Yongqing has claimed one of the world's top photography awards after being announced as the overall winner of the Wildlife Photographer of the Year competition for 2019.
Wildlife Photographer of the Year is developed and produced by the Natural History Museum, London. This year's staging of the competition was the 55th, and drew more than 48,000 entries from 100 countries, with the winning entry, entitled The Moment, coming from the native of Qinghai province.
The picture captures a remarkable stand-off between a Tibetan fox and a marmot, and was taken on the Qinghai-Tibet Plateau.
"Photographically, it is quite simply the perfect moment," said Roz Kidman Cox, the chair of the judging panel.
"The expressive intensity of the postures holds you transfixed, and the thread of energy between the raised paws seems to hold the protagonists in perfect balance.
"To have captured such a powerful interaction between a Tibetan fox and a marmot –two species key to the ecology of this high-grassland region –is extraordinary."
Museum Director Michael Dixon said the picture captured "nature's ultimate challenge – the battle for survival.
"The area in which this was taken … is under threat from dramatic temperature rises like those seen in the Arctic. At a time when precious habitats are facing increasing climate pressures, seeing these fleeting yet fascinating moments reminds us of what we need to protect."
The exhibition at the Natural History Museum in Kensington opens on Friday and runs until the end of May 2020, when it will go on a national and international tour. Entries for next year's competition will be accepted from Oct. 21.