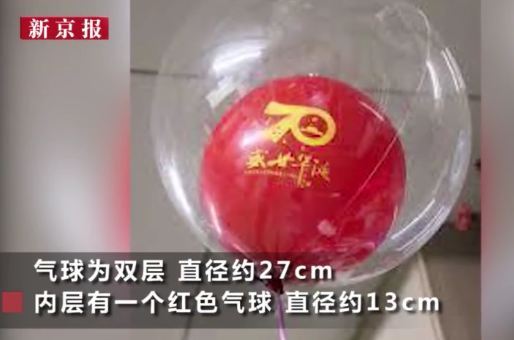 (Screenshot photo/Video on Beijing New Video News' Weibo account)
Special: 70th birthday of PRChina
A balloon marking the 70th anniversary of the founding of the People's Republic of China has traveled at least 1,000 kilometers to Hokkaido, Japan.
Beijing News cited Japanese media as reporting that the double-bubble balloon was spotted along the coastline in the northeast of the island.
The smaller, inner balloon features the red-and-yellow color scheme of the Chinese flag. Words such as "PRC's birthday – time of peace and prosperity" and "National Day" can be seen. The inner balloon also has a "70" logo with the silhouette of the Tian'anmen Gate Tower in the center of the number 0.
Japanese meteorological authorities say the balloon may have arrived on westerly winds which blow 6,000 to 9,000 meters above ground.