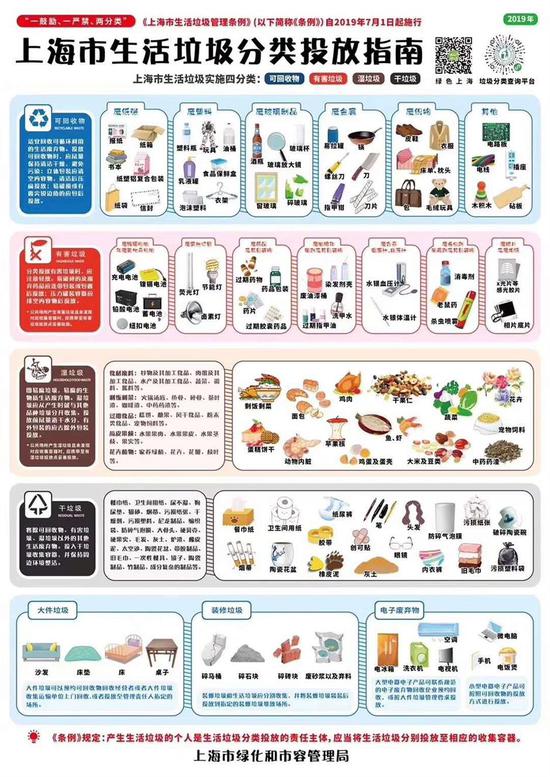 Shanghai's first official domestic garbage-sorting and dumping guideline was released by authorities yesterday.
The guideline by the Shanghai Greenery and Public Sanitation Bureau defines the official waste types of different trash.
For example, plush toys, plastic bottles, knives, window glass, pop-top cans, clothing, building blocks and electric wire should be dropped into bins for recyclable wastes.
Expired medicine, hair dye, batteries, fluorescent lamps, mercury thermometers and pesticides are defined as hazardous wastes.
Vegetables, flowers, eggs and eggshells, pet food, bread, food leftovers and traditional Chinese medicine residue are defined as wet trash.
Cigarette butts, napkins, hair, earth, band-aids and polluted paper and plastic bags are all dry wastes.
The guideline is currently only in Chinese with an English version to come.
Information about categories of trash are available on several platforms such as the city government's public WeChat accounts (shanghaifabu). More than 2.05 million searches have been made since its half-year operation.
Plastic bags, napkins, batteries, sanitary towels, clothing, zongzi (glutinous rice dumpling) leaves, shells, bone, beverage bottles, cigarette butts and disposable cups are the most-searched words, according to the Shanghai Waste Management Office.
The most searched item was plastic bags, at 47,000, which should be disposed of as dry trash, according to the bureau.
From July 1, when Shanghai's first domestic garbage management regulations take effect, individuals can be fined up to 200 yuan (US$29.4) for failure to sort garbage.