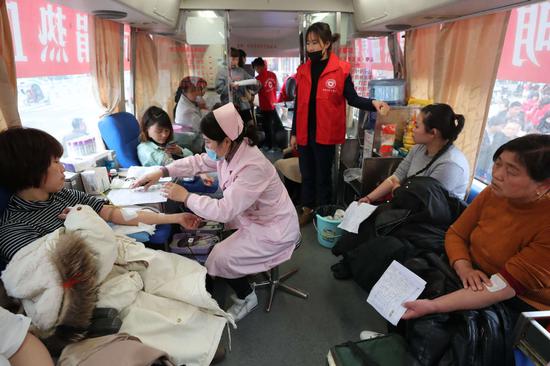 People donate blood at a donation point after a deadly chemical factory blast killed dozens in Xiangshui county in Jiangsu province on Friday. (Photo by Wang Jing/China Daily)
After an explosion at a chemical plant killed 47, residents of Xiangshui county in Jiangsu province have flooded centers to donate blood for the severely injured survivors.
There were so many people coming in to donate blood that the organizers at one center ran out of application forms, China Daily discovered Friday afternoon.
"On average, people have to wait for at least five hours for their turn," said Meng Xianghua, a member of the local labor union that has been assisting in the drive to build up blood supplies following the blast.
He said one of his neighbors came in at 8 am Friday and had to wait until 1:30 pm to donate. "There are so many people coming that we failed to count how many people have donated so far," he added.
The blast occurred on Thursday at the Chenjiagang Industrial Park in the city of Yancheng, in Jiangsu province, and the fire was brought under control on Friday.
Meng's union has been offering free food and drinking water to those donating blood since the center was set up Thursday.
Gao Shuibao, a volunteer at the local Red Cross society, estimated at least 280 people donated their blood on Thursday and the number stood at more than 200 on Friday morning.