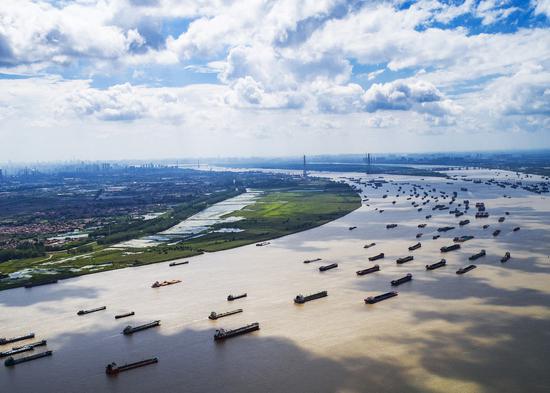 The Wuhan section of the Yangtze River. (Photo/Xinhua)
China will hand down more severe punishments to those who commit environmental crimes in the Yangtze River Economic Belt, according to a document issued by five central departments on Wednesday specifying offenses and punishment standards.
The document was issued by the Supreme People's Court, the Supreme People's Procuratorate, the Ministry of Public Security, the Ministry of Justice and the Ministry of Ecology and Environment.
It said that those who discharge or dump harmful waste, such as radioactive waste, or waste containing infectious pathogens or toxic substances, in the Yangtze River Economic Belt, or who discharge harmful waste into designated major rivers and lakes, will be severely penalized.
Bie Tao, director of the policies and regulations department of the Ministry of Ecology and Environment, said the document would enhance the collaboration of different departments to solve current law enforcement problems and crack down on crimes related to pollution.
In September 2018, Jinghu District People's Court in Wuhu, Anhui province, sentenced 12 people from Pol Shin Fastener (Zhejiang) Co in Zhejiang province to prison terms ranging from four months to six years and fined the company 10 million yuan ($1.48 million) for serious interprovincial environmental crimes.
From July 2016 to May 2017, the company dumped 1,071 metric tons of pickling sludge into Jiangsu and Anhui provinces from ships or trucks. During the second half of 2017, it shipped and dumped 313 tons of waste Bakelite and 2,525 tons of industrial sludge in Anhui's Tongling city.
Considering the difficulties of the investigation, including evidence collection and judicial authentication in air pollution cases, the document also specified that excessive emissions of chemicals such as sulfur dioxide and nitrogen oxides during a heavy pollution warning would be considered severe environmental pollution.
The document also categorized cases applicable for prosecution, probation or immunity from criminal penalties to guide the punishment of environmental crimes.