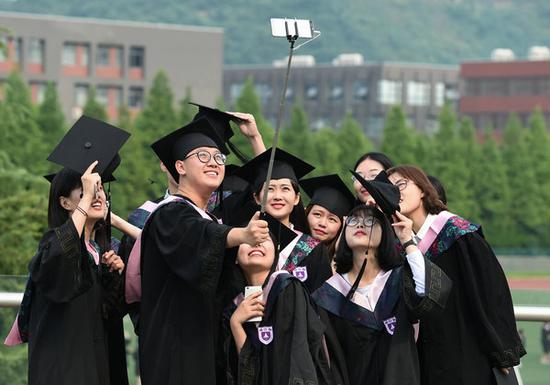 Nanjing University students take group photos after their graduation ceremony. [Photo/Xinhua]
More young Chinese believe their country is changing for the better and identify with its development path, a recent survey says.
The study by China Youth Daily and the Communist Youth League of China Central Committee found that 92.9 percent of young people surveyed think China is heading in the right direction, compared with 89.9 percent in 1998.
The Survey on Young Chinese, conducted in mid-November to mark the 40th anniversary of reform and opening-up, says only 0.6 percent think the country is getting worse, down from 1.2 percent 20 years ago.
Some 2.4 percent of respondents chose "neither better nor worse", and 4.1 percent said "sometimes better and sometimes worse".
The findings were based on a nine-day online survey of 6,081 people.
About 52.4 percent of the respondents were male, 83.4 percent had college diplomas and 12.4 percent were from rural areas.
The survey indicated that young people feel moderately fulfilled, happy and secure about their lives. Those living in county-level cities were among the most content, responding with an average mark of more than 80 percent for their sense of happiness.
Respondents in first-tier cities, including Beijing and Shanghai, are among the least happy young Chinese, with an average score of 77 percent, the report said.
Responses from those born in the 1990s indicated a higher degree of happiness, compared with those born in the 1980s, but those born in the '80s tended to be more fulfilled, it said.
Most young Chinese are beneficiaries of reform and opening-up, according to Chen Zihan, a graduate student in Beijing. The policy, which was launched in 1978, helped put an end to longtime domestic turmoil and kicked off decades of double-digit economic growth.
The 23-year-old geoscience student, who is applying for a doctoral program at a Canadian university, said the past 40 years have given millions of young Chinese opportunities to connect to the world and broaden their horizons.
"Only a generation ago, attending college was too much of a luxury to think of," he said.
Wang Meili, an English teacher at a private school in Yulin, Shaanxi province, was not surprised by the survey findings. The 26-year-old, who has a bachelor of arts degree, said a college education has allowed her to secure a job that she likes and to lead a relatively well-off life, despite the cost of housing.
"I come from a rural family, and I have noticed great advancement in the country's input in rural regions and the welfare of rural residents. My parents now benefit from numerous agricultural subsidies and health insurance for farmers."
Li Xin, a government employee in Yongshou county, Shaanxi, said that although money cannot buy happiness, the rapid increase of disposable income over the past decades and online shopping and food delivery services have contributed a lot to people's sense of fulfillment and happiness.