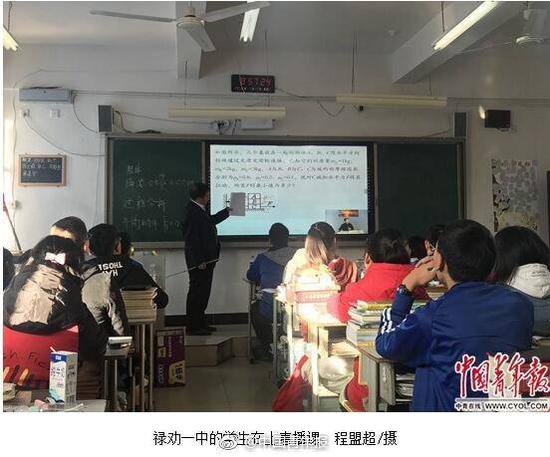 Students from a county high school in Yunnan Province learn via livestreaming. (Photo via China Youth Daily's Weibo )
Over a decade ago, chances were nearly zero for students from poverty-stricken areas in southeast China to attend the country's top two universities. Livestreaming is changing the whole picture.
According to China Youth Daily, in a 16-year effort of a Chinese online school, 88 out of 72,000 students who had learned through livestreaming were admitted to Peking University and Tsinghua University, the best two universities in the country.
These students, some of whom came from schools that struggled to send a single student to college, watched livestreamed courses being taught at Chengdu No. 7 High School in southwest China's Sichuan Province. Ranked as one of the top schools in the country, it is renowned for its education, all-round development of students and high college acceptance rates. The courses included English newspaper reading, lessons taught by native English speakers and watching Ted Talks, all of which led to confusion at first.
The challenging classes made the students from a county high school in southeastern Yunnan Province realize the huge gap between them and their peers behind the screen nearly 1,000 kilometers away. While the latter were sharing their experiences of travelling around the world, some of the students in the class had barely left their county.
Witnessing the possibilities realized by others, the students and teachers first felt frustrated and anxious. However, those feelings soon became sources of motivation to change. Students changed their study mode to learn more efficiently, and some would only sleep four or five hours a day to catch up with their peers, while teachers began instructing freshman to aim for where they wanted to be in the next three years.
"Let's go high from the low," said a poster in the school's main teaching building.
According to a staff member at the online school, the livestreamed courses also helped students adapt to their university education. Though their early education was limited, their potential was still untapped.
Many netizens were touched by the fact that technology had bridged the education gap for kids from underprivileged areas. Former students who took the class years ago shared their experiences on Weibo. "Many thanks for the online school. It gave me hope," one former student said.
This February, Xinhua News Agency reported that China's Ministry of Education had cooperated with China Unicom, one of the country's major mobile network operators, to boost Internet speeds in rural schools so that information technology could continue to facilitate the development of education in these areas.