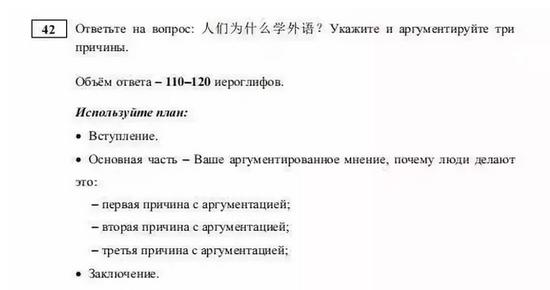 The exam is divided into four parts: listening, vocabulary/grammar, reading and writing. (Photo/Xinhua)
For the first time in 2019, over hundreds of middle school students in Russia will take Mandarin as a subject on the Unified State Exam, a national college entrance exam that 11th graders must pass to get enrolled into college, announced Anzul Muzaev, deputy director of Russia's The Federal Service for the Supervision of Education and Science.
Soon, 9th graders in Russia will be given the option of taking Chinese as an elective language test on their final exam, which helps them to prepare for the Unified State Exam, said the deputy.
In addition to English, German, French and Spanish, Mandarin will become the fifth elective language test for Russian college entrance exam.
"We have not gotten the exact number of how many students will choose Mandarin until now. But based on my experience, there will be hundreds of student attending the Mandarin test," he added.
The number of Mandarin learners in Russia has grown from 17,000 to 56,000 from 2007 to 2017.
To officially introduce the exam, preparation work was underway for over three years, including designing oral and written tests, preparing reference materials and several talent reserves, said Sergey Kravtsove, deputy minister of education and science of the Russian Federation on March.
Back in 2015, the Russian's education department announced that Mandarin would be one of the elective languages in the college entrance exams for districts like Moscow, St. Petersburg and Khabarovsk.
"We have six different fields. Eastern Studies is one of them where they can study eastern languages and Mandarin classes are the biggest one," Andrei Belov, deputy principal of Lyceum of Higher school of Economics in Moscow, said last year.
"The idea of teaching a foreign language at school is to open the students to a bigger world, giving them the ability to get all sorts of information and a chance to be more successful in their profession in the future," said Ivan Yaschenko, the director of the Centre of Pedagogical Skills.
Insiders from the education industry in Russia confirmed that students with both professional backgrounds as well as Mandarin proficiency will be more competitive when applying for jobs, according to the Telegraph.
In China, the topic of "Mandarin being added to college entrance exam in Russian" has begun to trend on social media.
After taking a look at the questions, I feel like it is not even easy for me to answer all the questions, said @Xiaowan.
"What is the correct answer for the second question?" commented @CaiwenliangWilliam, "I guess it should be G."