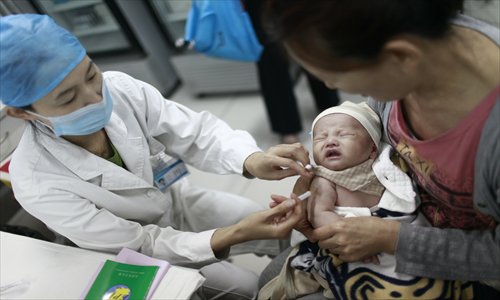 An infant receives vaccine against measles at a hospital in Beijing. (Photo: Li Hao/GT)
China is seeking to tighten supervision over vaccines through a new law after the Changchun Changsheng scandal that involved the production and sale of substandard vaccines.
The State Administration for Market Regulation on Sunday published the draft law on vaccine management on its website to solicit public opinions for half a month.
The drafted law aims to "ensure public health, promote public hygiene and safeguard national security."
The 11-chapter draft states that supervision and management of vaccine market access should be tightened, and requires stricter management on vaccine production, distribution and vaccination.
Tao Lina, a Shanghai-based vaccine expert, told the Global Times on Monday that the draft law would ease public concerns over vaccine safety and highlight the importance of vaccine production companies.
To further enhance public trust in vaccine safety, Tao said the government should open the "specific test results" of vaccines to the public, which could help the public to make their own decision and further force vaccine companies to produce better vaccines, Tao said.
The Changchun Changsheng incident revealed management loopholes and a system defect in vaccine production and distribution, the administration said.
Changchun Changsheng Life Sciences Limited was fined more than 9.1 billion yuan ($1.32 billion) for the illegal production of a human rabies vaccine, Xinhua News Agency reported.
Illegal behavior, including the fabrication of data and inaction on problematic vaccines, will be severely punished. Vaccine-producing companies could face a penalty of up to 1 million yuan ($143,632) and a halt to its operations, the draft reads.
Those who participate in illegal behavior, shield or connive with violators, engage in fabrication, or impede investigations will also be severely punished.
The draft law is different from the Regulation on the Administration of Circulation and Vaccination of Vaccines by the State Council revised in 2016, in that it only allows vaccine companies to provide expensive vaccines to provincial-level centers for disease control and prevention, not to county-level centers, Tao said. It will better protect the rights of vaccine companies, he said.