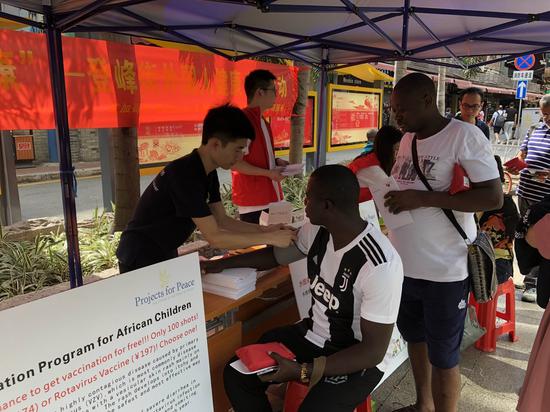 Social workers provide medical services for Africans. / CGTN Photo
Special: Forum on China Africa Cooperation 2018
Guangzhou in southern China is renowned as a popular destination for African businessmen and students.
But some youths from the continent are also dedicating themselves to voluntary social work in the city. Michel Musampa Tshimbombo is one of them.
The 20-year-old is from the Democratic Republic of Congo. He came to Guangzhou in 2016. Now he is a volunteer at a community service center. One of his routines is visiting the elderly.
"I like visiting seniors," Michel told CGTN. "I want to get to know more about Chinese people, their lives and culture."
The center is located in Dengfeng subdistrict, a foreigner-friendly neighborhood that is home to 1,300 expats from 75 countries, among them over 800 from 35 African nations.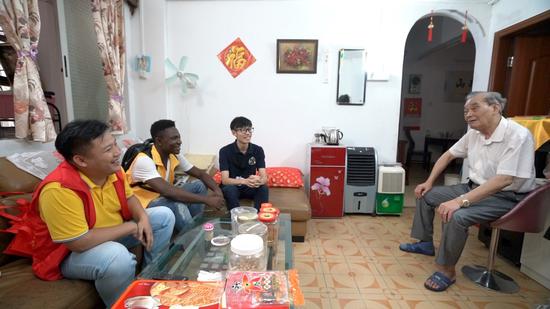 Michel and other Chinese social workers visiting a local senior. /CGTN Photo
In 2007, it became Guangzhou's first center to provide one-stop services for expats, including legal and medical consultations, house rental registrations and currency exchanges.
Besides, it holds many activities such as free Chinese classes, festival celebrations and football games to help Chinese and foreigners get along with each other.
Foreigners are welcome not only to access services but also to volunteer like Michel.
"We have eight foreign social work volunteers, six of them are from Africa. They play very important roles in our work," Wang Haige, director of the service center, told CGTN.
"For example, for foreign newcomers to Guangzhou, we'll visit them at their houses to introduce local regulations and policies. If there are only Chinese social workers there, maybe the expats won't listen. But when we have foreign volunteers to communicate with them, it'll save more time and be more efficient."
According to Guangzhou Municipal Public Security Bureau, there are 82,000 foreigners registered to live in Guangzhou, while another 1.17 million came for short stays during the first half of 2018.