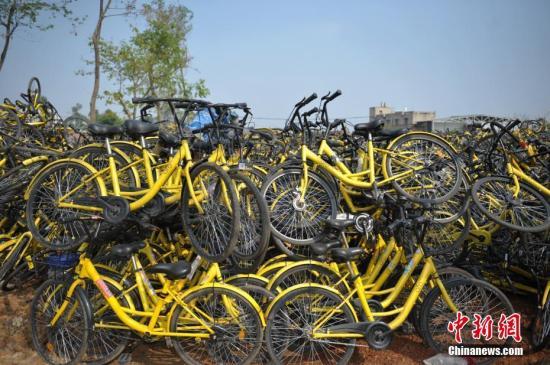 Ofo, one of China's leading share bike companies. (Photo/Chinanews.com)
Ofo, one of China's leading share bike companies, has made headlines again after customers have complained about its new revenue raising strategy, reports the Beijing Youth Daily.
When users open the Ofo app to unlock a share bike, they first have to watch a five-second video advertisement.
Many Ofo users have taken to social media to say that the videos will be a drain on their mobile data allowance, despite these types of video advertisements being commonplace on many online platforms, such as Weibo and Toutiao.
Bike share industry insiders were cited by Beijing Youth Daily as saying that Ofo might lose customers because of their new revenue raising strategy.
The pushback by customers comes at a difficult time for the company: its main rival, Mobike, dropped the requirement that new users pay a deposit to use its service. When users sign up to Ofo, they are required to provide a 95 yuan deposit ($14).
Ofo said that the company has previously tried several different advertising strategies. These include displaying advertisements in their app, and on the bikes themselves. These approaches have brought in revenues of over 100 million yuan as of June this year. The company added that it had achieved profitability in over 100 cities across China.
Despite this, news about Ofo's capital woes and rumors about a potential buyout have been circulating since the start of the year. On Wednesday the co-founder of Ofo, Yu Xin, refuted the rumor that his company was being acquired by Didi Chuxing for $2 billion.