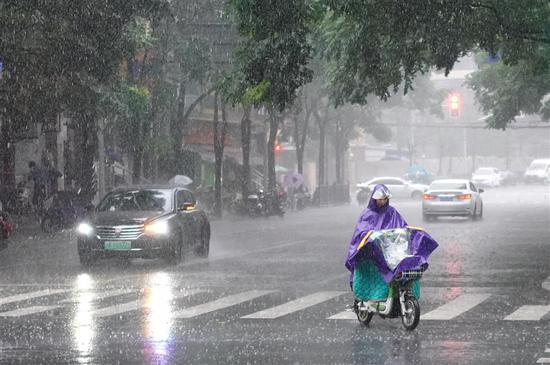 A woman rides an electric bike in the rain in Shanghai on August 16, 2018. (Photo/Shine.cn)
The Shanghai Meteorological Bureau raised the blue typhoon alert to yellow at 12pm on Thursday as typhoon Rumbia approaches the east coast.
According to the bureau, Rumbia is likely to make landfall on China's eastern coastline, between Zhoushan City of Zhejiang Province and Shanghai, either Thursday night or the wee hours of Friday.
Rumbia will be the fourth typhoon to hit Shanghai within a month – all official bodies of the city are taking precautions.
The Donghai Bridge connecting Shanghai and Yangshan Island was closed, a government official said. Sightseeing cruises on the Huangpu River tonight will be closed as well if the rain Rumbia brings is too fierce.
So far, more than 1,700 boats have been docked safely, The Shanghai Maritime Safety Administration confirmed. Officers from the administration are still helping small boats near the Waigaoqiao port to get back to the harbor.
The State Grid Shanghai Co has allocated more than 3,000 engineers and workers to the 173 temporary bases on standby. Transformer substations and electric transmission lines around the city have been inspected.
The Shanghai Greenery and Sanitation Administration Bureau has launched another round of troubleshooting on the safety of roadside trees, drainage outlets and high objects such as signboards.
The bureau also urged residents to take outdoor plants, for example those on balconies or windowsills, back inside in order to prevent them from falling and hitting people on the street.
All construction sites in the city were suspended from Thursday afternoon. High-rise facilities at such sites including tower cranes, scaffolds and elevators have been inspected to rule out any possibility of fall hazards.