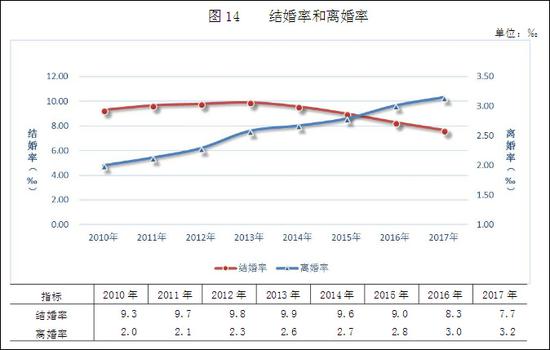 China's marriage rate and divorce rate from 2010 to 2017./ Photo via Ministry of Civil Affairs
One of the greatest fears of Chinese parents has come true: the younger generation of Chinese people are becoming increasingly reluctant to get married. China's marriage rate has significantly plummeted since 2014, according to a report released by the country's Ministry of Civil Affairs, with the divorce rate keeping rising in recent seven years.
There were around ten million couples registered to get married across the last couple years, decreasing seven percent compared to last year. It is also the biggest drop rate in the last four years.
Meanwhile, less than five million couples chose to divorce, leading to a fourth-year rise of the divorce rate in the country.
Also, before 2012, people aged between 20 to 24 were the main population to get married; while in 2017, more and more Chinese people chose to get married at the age of 25 to 29.
Actually, this is not a trend just in China, some other countries are also experiencing a similar process: US, Japan and most OECD nations, are all undergoing these changes in recent years. 
However, is this a bad thing? In a society which places a lot values on family and offspring, how will this change affect China? And why has it occurred?
Has the new generation had a change of heart? 
Chinese society is getting more and more tolerant towards different living methods, and young marriageable people, who are born in 1980s and 1990s, now have their own ideas of living since they have grown up with more diverse values than previous generations.
This can be clearly seen in China's younger generation of women. As the country's rapid development transforms and creates greater job opportunities, Chinese women no longer view marriage as a path of security – they prefer to get it from education and then career. 
This is a great change in Chinese society. In 2007, women who were not married after they turned 27 years old were called "shengnv", or "leftover women" in China. However, now in 2018, that value in society has changed greatly, and women who have their own career are admired by others.
Government statistics also suggest that more than 85% of both male and female workers, a third of whom are at the "traditional" marrying age, work more than 44 hours a week, leaving them with little time and energy to build relationships.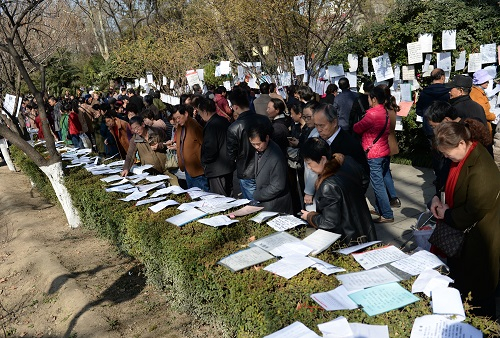 Parents gather in a matchmaking event to search for potential partners for their children./ Photo via Xinhua
Other lifestyles are also being explored by China's younger generation. Cohabitation is becoming more and more common. Also, thanks to technology and smartphone Apps, casual sex is easier to access than before.
Financial burden 
The long-held tradition of a man being able to provide a house and car before getting married has impacted the marriage situation in China. Considering China's skyrocketing housing prices, it is hard for men to save enough money before they get married, and this has led to a decrease in marriage rates.
After getting married, having a baby would have been the first concern of a new family. However, massive costs to have a child has also stopped couples from tying the knot.
"I may lose my job if I get married and give birth"
It is not that young women are not interested in their love life, but there truly exists a gender disparity in Chinese society. Over the past few years, women have faced gender discrimination in education and in the workplace.
This is not only the case in China. A Tokyo medical school admitted altering the entrance test results of female applicants to exclude them earlier this month. 
So nowadays the majority of career women say no to marriage out of fear of being kicked out of the job market – they don't want to trade their career or freedom for a wedding. 
More and more young people think "whether you're married, single or getting divorced, people should be respected for their own choices." However, despite free choice and social tolerance, low marriage rates may lead to a low birth rate, which may affect the whole country's demographic structure.