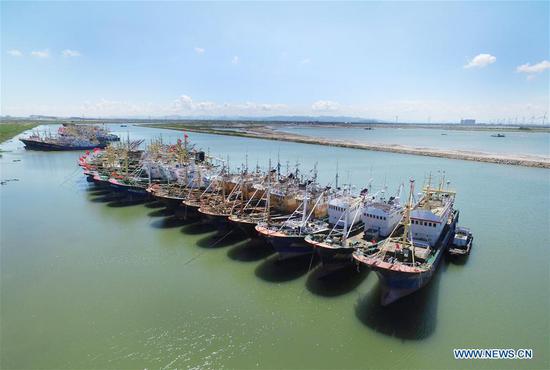 Fishing boats are seen at berth at a harbor in Songmen Township of Wenling City, east China's Zhejiang Province, July 9, 2018. A yellow-level alert has been issued and third-level emergency response has been activated to cope with approaching typhoon Maria, the eighth typhoon this year, in China's coastal provinces. (Xinhua/Liu Zhenqing)
Super Typhoon Maria is bearing down on coastal China and is expected to make landfall at eastern Fujian Province in the early Wednesday. It is expected to bring some 14 to 15 degree strong gales.
The cities of Ningde, Fuzhou and Pingtan along the east China province's coast are expected to bear the brunt. While emergency measures have been in place, authorities say Super Maria might still wreak havoc.
"Maria is particularly dangerous," said Mei Changhe, deputy head of the Water Conservancy Department in Fujian Province.
"We're looking at a particularly severe case of typhoon. Wind is expected to be ferocious. It will bring very rough waves and heavy rains. Maria is also moving at a very fast pace. "
Authorities say all fishing boats in the province will be back by 18:00 Tuesday at the latest. All personnel at offshore fishery will be back on land by then. Areas under threat will be halting all work and operations as early as late Tuesday.