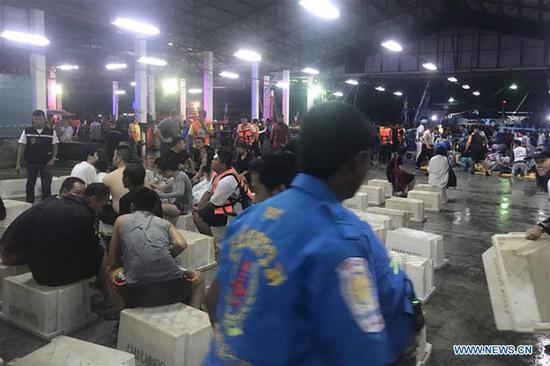 Rescued tourists are seen on the island of Phuket, Thailand, July 5, 2018. Until 8:30 p.m. local time (1330 GMT) Thursday, the majority of 133 passengers on two boats overturned by rough seas in southern Thailand were saved, but the Thai authority cannot confirm all of them are saved now, said Chinese Consulate-General in Songkhla on Thursday.(Xinhua)
It's reported that 17 men have died and dozens of Chinese tourists are missing, as 94 had been rescued among a total of 148 people on board three ill-fated boats in rough seas off the popular island resort of Phuket in Thailand.
The Chinese Consulate-General in Songkhla said on Friday that among the missing 53 people, 50 are Chinese tourists. Among the 94 rescued, 76 are Chinese tourists. 11 injured passengers are at local hospitals for medical treatment.
Two boats carrying tourists, mostly Chinese, capsized in the sea at about 5:45 p.m. local time (1045 GMT) on Thursday. A personal water craft carrying two foreign tourists also capsized.
The confirmed victim and 53 missing passengers were all on board the Phoenix tourist boat, which capsized off the Koh He Island of Phuket Province.
The governor said early Friday that a 24-hour rescue command center had been established and the Thai navy would dispatch helicopters to search for the missing