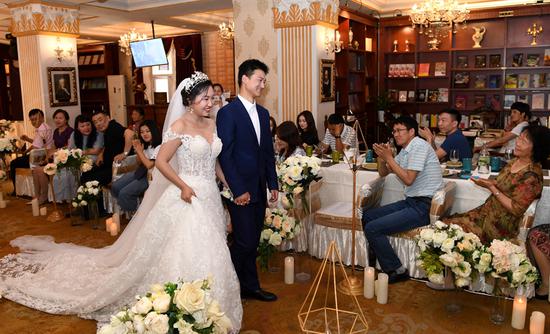 Li Ziyan and her partner Hu Yuanhua hold their wedding ceremony in Gogol Bookstore in Harbin, Heilongjiang province, on June 1. Since its opening in October 2014, 36 couples have held their wedding ceremonies in the bookstore. Liu Yang / For China Daily
To stay relevant in the digital era, Harbin business offers tailored ceremonies for couples looking for something different
Flowers, chandeliers, dozens of overflowing bookshelves and a red carpet make for an enchanting setting for those who choose Gogol Bookstore in Harbin, Heilongjiang province, for their wedding.
"Unlike traditional lavish hotel weddings in large banquet rooms with countless round tables, bookstore weddings are more like an intimate family party," said Yu Bing, the bookstore's general manager. "Our store is quite small, so the number of guests is limited. Only the couple's closest relatives and friends can be invited."
Located on a 100-year-old street, the neoclassical look of the bookstore has the ambience and feel of being thousands of miles away in Russia.
Since its opening in 2014, 36 couples have held their wedding ceremonies at the bookstore. Yu remembers the first she helped plan.
"Soon after the bookstore first opened its doors, a young couple asked whether they could hold a wedding reception here," she said. "They also told me they originally planned to spend big money on a long honeymoon and skip the reception, as guests would hardly know one another anyway."
However, after a chance visit to the bookstore, the couple changed their plans. "Both of them were college instructors and had a great interest in reading," Yu said. "They believed that it would be more meaningful to hold a bookstore wedding."
Yu was also attracted by the idea and agreed without hesitation.
"But at that time I didn't have any experience planning weddings," she said. "To leave the couple with an unforgettable memory, I called on all my colleagues to help out."
They spent nearly two months preparing for the ceremony, discussing arrangements with the couple almost on a daily basis.
"We had to take their requests into consideration as well as incorporate the bookstore's elements into the occasion," Yu said.
"Finally, with everyone's full cooperation, the ceremony was held at the end of 2014, and all attendees were impressed."
On the day of the wedding, flowers graced the chandeliers and bookshelves while a violinist played songs of love.
The couple had earlier written down the romantic story of how they met and courted, which was handed out to the guests as a gift.
"In the middle of the ceremony, the guests were asked to read poems that served as blessings for the newlyweds," Yu said. "This interactive section is still my favorite part of the bookstore weddings."
Over the past four years, Yu and her team have tried to come up with novel ideas for each reception.
"We have a red carpet with love poems printed on it," she said. "Guests can receive unique gifts such as books, bookmarks and postcards, which are all specially designed for each wedding."
Li Ziyan, 26, a salesperson at a Harbin company, held her wedding at Yu's bookstore on June 1.
"I'm really happy as the ceremony was far better than even I could have imagined. I don't regret canceling the previously booked wedding feast," Li said. She and her husband Hu Yuanhua invited only 30 guests. "They are all our most intimate relatives and friends," Li said. "The bookstore provided us a welcoming and comfortable place to record the most important event in our lives."
Guo Mengmeng, Li's college roommate from Henan province, was among those who attended the wedding. She said it was her first time in Harbin, but she had heard of Gogol Bookstore before.
"It's really a distinctive idea to hold a wedding in a bookstore, and we all enjoyed the Western cuisine," she added. "Maybe I will choose the same style when I prepare my wedding."
Yu, the general manager, said in the digital era, books have fierce competition from electronic gadgets.
"Traditional bookstores face challenges from online rivals, so we have to fight back by developing a new way to grow," she said. "So it's a good idea to host weddings in bookstores, as it is welcomed by young people and brings books back into the conversation."
More couples are also looking for unique ways to tie the knot, Yu added.
"To my pleasure, I find more parents of brides and grooms are seeking something different from traditional weddings. Every time I hear a couple exchange vows, I can't help but shed a tear because I put my whole heart into the wedding preparations," she said.