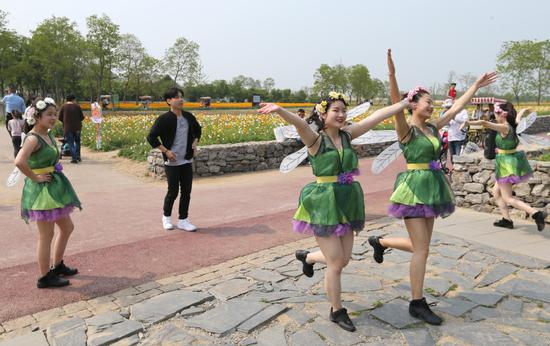 Girls dressed like dragonflies perform dances inspired by Douyin at a park in Suqian, Jiangsu province. (Photo by Zhou Guoqiang/For China Daily)
Luo Li, a 24-year-old college student from Anhui province who seldom watched or shot 15-second short videos before, has recently become interested in shooting "finger dance" videos.
The finger dance allows people to use hand gestures to "dance", and has become popular on Douyin, a Chinese short video app currently in vogue, in the past few months.
Luo is among Douyin's 60 million active users who together contribute more than 4 billion video views on the platform every month.
The figure is phenomenal, especially at a time when other short video companies, including Kuaishou and Huoshan, are competing fiercely in the domestic market.
"Can you believe that the first finger dance I uploaded onto Douyin has been watched more than 1.7 million times?" said Luo. "Unlike other platforms, it is interesting and easy to shoot a film and share it with both friends and strangers on Douyin."
To encourage users to watch or upload short videos, Douyin offers creative ways for users to participate in the latest trends, like the finger dance, which are easy to imitate and appealing to young people. To make their videos look cool, users can apply special effects, background music and other video-making skills the platform offers.
According to market consultancy Analysys, around 85 percent of Douyin's users are aged under 24, many are born after 2000, and they long to show their distinct personality and creativity.
"Young people like to follow fashion, to perform in front of the camera and to share with others. Douyin's high download figures reflect that this fresh way of sharing short videos has stimulated their interest greatly," said Ma Shicong, an analyst at Analysys.
"But whether Douyin can maintain this success remains a question, as youngsters' interests can change quickly. It depends on how the platform is going to operate in the long term," he said.
Wang Xiaowei, product manager of Douyin, said the platform aims to be a universal product where people of different ages, backgrounds and genders can record and share their lives.
The company recently announced that it would tap into foreign markets including Japan, South Korea and Southeast Asia.
Last November, its parent company Toutiao bought domestic short video app musical.ly, which has a large presence in the United States.