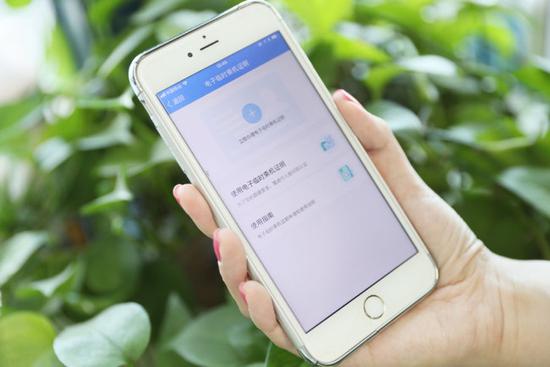 This photo taken on Wednesday, May 23, 2018 shows the app that passengers can use to apply for provisional electronic identification. (Photo: China Plus)
The Beijing Capital International Airport has started to pilot provisional electronic identification for passengers, reports the Beijing News.
Instead of applying for a paper provisional identification document, passengers of Chinese nationality who take domestic flights from Terminal 1 of the airport can apply for provisional eIDs through a mobile app, if they have lost or forgotten to take their ID cards. The policy took effect on May 21.
It is also possible to apply for an eID through self-service machines at the airport.
A passenger needs to enter his/her name, ID number and flight information, before undergoing a facial recognition process.
The information then goes for verification. The verification process takes less than two minutes.
The passenger will receive a QR code if the application is successful, which will be used for check-in at a specified counter and security check through a specified passage.
The eIDs are valid for two days.
Passengers can apply for eIDs between 6 am and 9:30 pm during the trial operation. The eID application process is expected to expand to all terminals of the airport after the trial run.
It is reported that the police bureau at the Capital Airport issued 300,000 pieces of provisional identification last year, with over 1,000 pieces issued daily during the festival travel peaks.