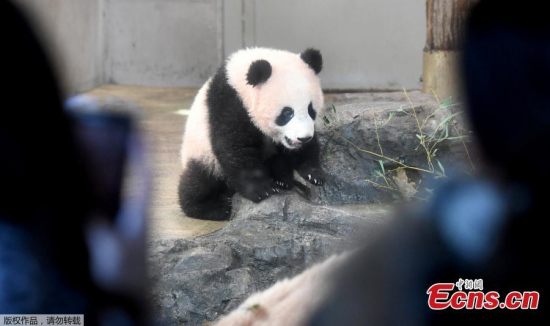 People look at female giant panda cub Xiang Xiang at Ueno Zoo in Tokyo on December 19, 2017. Xiang Xiang appeared to the public the first time at the zoo. (Photo/Agencies)
Visiting hours for panda cub Xiang Xiang have been extended to seven hours a day at a zoo in Tokyo to meet demand, reports the Asahi Shimbun.
The Ueno Zoo will keep the young cub in its public display from 9:45am to 4:45pm on a daily basis.
Xiang Xiang was born on June 12, 2017.
The young female made its public debut on December 19, 2017.
It's being reported a daily limit of 2,000 visitors is set to be scrapped at the end of January.
The extension of 'panda diplomacy' in Japan comes as Finland prepares to welcome a pair of giant pandas on Wednesday.