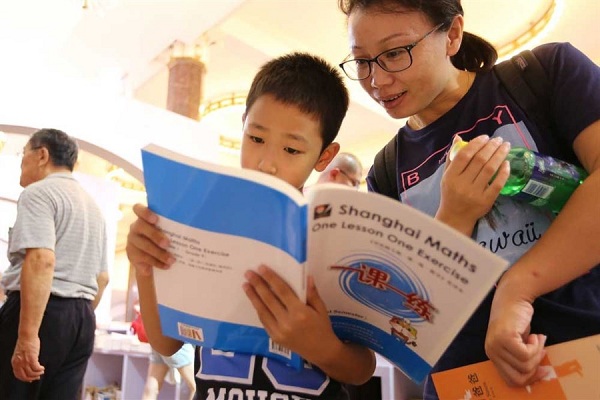 A boy reads attentively the English version of "One Lesson One Exercise" at Shanghai Book Fair where the math textbooks enjoy great popularity. (Wang Ronjiang)
The English version of a popular set of Shanghai math books which debuted at the recent Shanghai Book Fair attracted a great number of interested Chinese readers.
Chinese publishers and scholars have been inspired by the introduction of Shanghai math books to the United Kingdom and are bringing the fruit of such exchanges back to the city.
In Britain, pupils may need to sharpen their pencils in preparation to do math "the Shanghai way."
In March, HarperCollins, one of the world's largest publishing companies, signed an agreement with Shanghai Century Publishing Group at the London Book Fair to publish an English version of the math textbooks used in Shanghai's primary schools.
The series of 36 books called "Real Shanghai Mathematics" will be used by British students from September as the new term begins.
Chinese students perform excellently in math in the Program for International Student Assessment, a worldwide study assessing 15-year-olds on key knowledge and skills, mainly in the areas of reading, math and science.
According to PISA website statistics, students from Shanghai came first in 2012 in PISA, which has been held every three years since 2000. British youngsters were 25 places behind. In 2015, Chinese students also performed significantly better than their British counterparts.
In 2016, the UK Department for Education announced that it would spend 41 million British pounds (US$53 million) on a four-year program to spread the Shanghai Teaching for Mastery Program in the country.
Chen Yilin, a math teacher from Shanghai Luwan No. 1 Primary School, helped translate "Real Shanghai Mathematics" into English.
"The team spent three months on translation, word-for-word, with some adaptations in accordance with the requirements of the British side," she says.
The deal between HarperCollins and Shanghai Century Publishing Group is the first time that a whole series of Chinese textbooks has been adopted by the national education system of a developed economy.
But it is not the first time HarperCollins has taken Chinese textbooks overseas.
In 2015, the company published an English version of "The Shanghai Math Project," supplementary study materials originally published by East China Normal University Press and used by Shanghai students for more than 20 years.
"The Shanghai Math Project" has not just been translated, but has been adapted to British needs.
"Given the cultural and curricular differences, merely translating a Shanghai textbook into English would cause problems for students, so the adaptation work is important," says Ni Ming of East China Normal University Press.