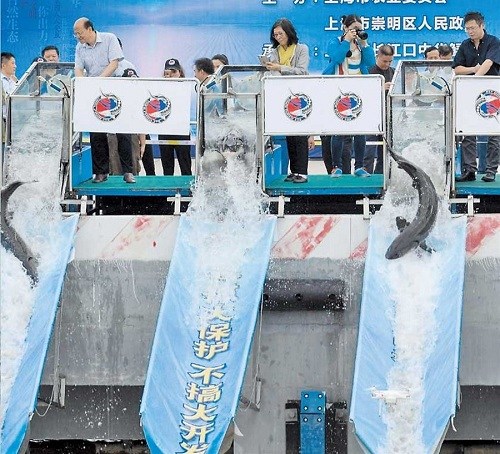 Chinese sturgeons and sharks are released yesterday into the Yangtze River's mouth at Chongming Island. The aim is to better protect aquatic organisms.(Ti Gong)
Thousands of sharks were put into the Yangtze River yesterday.
The city released 30 Chinese sturgeons and more than 30,000 Chinese high-fin banded sharks into the river's mouth in suburban Chongming Island.
The project aims to increase the number of rare animals living in Yangtze River and to better protect aquatic organisms, which will also contribute to building up Chongming's plans to be a world-class ecological island.
The sturgeons had received one-year acclimation by Shanghai Yangtze River Estuary's Chinese Sturgeon Nature Conservation Area Office before the release to help them better adapt to the wild environment. The sturgeons are about 9 years old and over 1.7 meters in length.
Both Chinese sturgeons and Chinese high-fin banded sharks are endangered species. The sturgeons have first-grade national protection, and the sharks second-grade national protection.
The conservation area office said it would launch a second release of Chinese sturgeons in the second half of this year. The office has been releasing rare aquatic animals to the wild since 2004.
June is an important month for the breeding and growth of aquatic organisms and major Chinese rivers, including the Yangtze, have introduced fishing moratoriums.
The Ministry of Agriculture has for the past three years called for local authorities to release aquatic animals to the wild to restore fishing resources and promote the protection of aquatic animals.