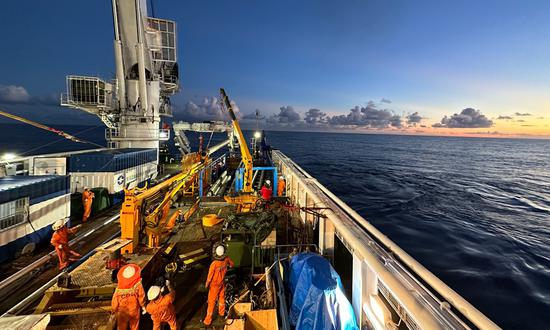 Researchers prepare for experiment work on the sea on July 23, 2023. (Photo/Courtesy of Guangzhou Marine Geological Survey)
China's first floating ocean thermal energy conversion device for generating electricity has successfully completed offshore testing, marking the first time the country has achieved theoretical validation and engineering operation of the project under actual marine conditions, according to chief developer of the project, the Guangzhou Marine Geological Survey (GMGS), on Tuesday.
The 20-kilowatt device was carried by the Haiyang Dizhi 2 (Ocean Geology 2) ship, which successfully completed an offshore trial in the South China Sea and returned to Guangzhou, capital of South China's Guangdong Province, said the project developer.
Ocean thermal energy refers to the heat energy formed by the temperature difference between the surface waters of the ocean and the colder deep waters. This temperature difference can be used to generate electricity through the ocean thermal energy conversion device.
In August, the device conducted its first offshore trial in the waters of the South China Sea at a depth of 1,900 meters. The total generating time of the trial lasted for four hours and 47 minutes, with a maximum power generation of 16.4 kilowatts and an effective power generation efficiency of 17.7 percent, according to GMGS.
"We have overcome some core key technologies such as deep-sea thermal insulation water intake, and cold water pipeline installation," Ning Bo, a senior engineer from GMGS and the person in charge of the project, told the Global Times on Tuesday. The device achieves a 100 percent localization rate, with low cost and strong maneuverability, according to its developer.
The offshore trial took more than 10 days. The offshore test not only verified the theoretical viability of the ocean thermal energy power generation system, but also implemented engineering applications, marking "a crucial step" for the country to develop from the land test stage to offshore applications in this field, Ning said.
Based on the 60-year research and investigation in marine geology, ocean currents, hydrology by GMGS, Ning's team found that the basic research on ocean thermal energy is mainly at the theoretical research and land test stage, and this is where they started to carry out the project.
The practical experiment corrected the previous underestimation of the temperature difference in the ocean, the potential of which is large, said Ning. China is rich in ocean thermal energy reserves, according to Ning.
The project represents a certain level of technological breakthrough, but there is still a long way to go for large-scale commercial application, Lin Boqiang, director of the China Center for Energy Economics Research at Xiamen University, told the Global Times on Tuesday.