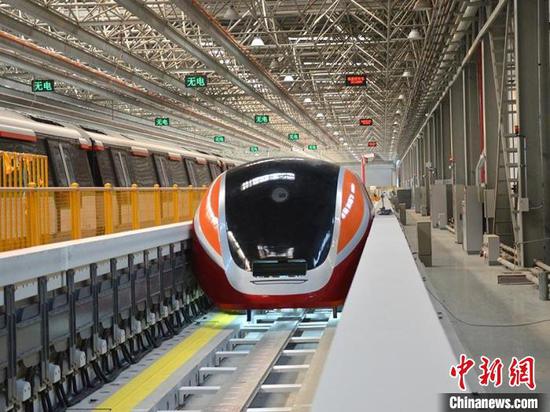 The high-temperature superconducting maglev system developed by CRRC Changchun Railway Vehicles Co (Photo/China News Service)
China's first high-temperature superconducting maglev system completed its first trial operation on Friday, which verified a number of core technologies, marking another breakthrough in China's research and development (R&D) of ultrafast maglev transportation system.
Developed by CRRC Changchun Railway Vehicles Co, the trial maglev system was combined with vehicle, railway, traction power supply and operation communication, which can conduct test operations in a low vacuum tube with the maximum speed of 600 kilometers per hour, according to a statement the company sent to the Global Times on Sunday.
The trial operation has verified multiple core technologies including superconductor, synchronous traction, induction power supply and low-temperature refrigeration in the maglev filed.
Yu Qingsong, deputy general engineer of CRRC Changchun, said that maglev transportation will be an important solution to building rapid communication systems among mega cities in the country's coastal developed regions, as well as providing a vital support to upgrading the country's urban development while diversifying the national transportation networks.
CRRC Changchun had started R&D pertaining to maglev system in the 1990s. The company's maglev train with the speed of 120 kilometers per hour has been deployed in China's first sightseeing maglev train route in Qingyuan city, South China's Guangdong Province on March 24. In addition, CRRC Changchun's maglev train system was also adopted as part of Shanghai Metro's Maglev Line which entered commercial operation at the end of 2002, CRRC said.