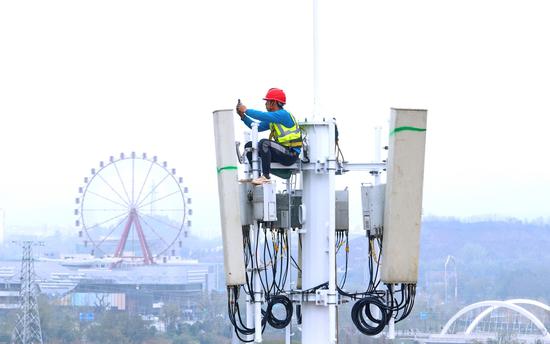 A China Mobile technician checks 5G equipment in Nanchang, Jiangxi province, in December. (ZHU HAIPENG/FOR CHINA DAILY)
China's intensified push for the development of superfast wireless technology including 5G and 6G will further promote industrial upgrading and digital transformation in traditional sectors, providing new momentum for the country's economic growth, industry experts said.
They added that 5G technology has been widely combined with artificial intelligence and the internet of things, with a wide range of applications in fields such as virtual reality games, online education, unmanned vehicles and smart logistics. They also called for efforts to actively participate in the formulation of 6G-related international standards.
Their comments came after the top industry regulator said that China will accelerate the construction of 5G networks, expand the application of 5G technology in more fields, especially in manufacturing, and promote the research and development of 6G.
"Currently, China is at the global forefront of 5G development. The country has built more than 2.54 million 5G base stations, with the number of 5G smartphone users surpassing 575 million," said Jin Zhuanglong, minister of industry and information technology, adding China will build 600,000 5G base stations this year.
Jin made the remarks on the sidelines of this year's two sessions. Noting that 5G has been used in more than half of the major industrial sectors, including mining, ports, electricity and aviation, Jin called for efforts to expand the application of superfast wireless technology in more fields like manufacturing.
He said the country will establish over 10,000 5G-empowered factories during the 14th Five-Year Plan (2021-25) period, as part of a broader drive to bolster the application of 5G technology in industrial internet.
China is likely to spend 1.2 trillion yuan ($174.2 billion) on 5G network construction, which will drive more than 3.5 trillion yuan of investment in the upstream and downstream industrial chain and related sectors by 2025, according to the China Academy of Information and Communications Technology, a government think tank.
The 5G industry is expected to directly create over 3 million jobs by 2025, with aggregate information consumption brought by the commercialization of wireless technology surpassing 8.3 trillion yuan, the academy said.
Xiang Ligang, director-general of the Information Consumption Alliance, a telecom industry association, said China has entered a crucial period for 5G commercialization, with the superfast wireless technology being used in a wide range of industries and scenarios, including video conferencing, online medical consultations, remote education, short videos, livestreaming and gaming.
"The country's heightened efforts to speed up the rollout of 5G and expand its application are conducive to promoting the digital and intelligent transformation of traditional industries and fostering the high-quality development of the digital economy," Xiang said.
In addition, China has already established the IMT-2030 (6G) Promotion Group, a flagship platform in China promoting 6G and international cooperation, and will speed up the R&D of 6G technology, he added.
As the next-generation mobile communication technology, 6G will integrate with advanced computing, big data, artificial intelligence and blockchain, according to a white paper issued by the IMT-2030 (6G) Promotion Group.
The report said the world is expected to see the commercialization of 6G around 2030, and the 6G network will realize the deep integration of the physical and the virtual worlds, and build a new world featuring the intelligent connection of everything.
Although there is no universally accepted definition of 6G, the technology is predicted to provide faster speeds, lower latency and more bandwidth than 5G.
Wen Ku, secretary-general of the China Communications Standards Association, highlighted the significance of making a forward-thinking layout in 6G technology, adding that efforts to promote the commercialization of 5G will lay a solid foundation for 6G development.
He called for strengthening international cooperation in 6G-related technology, standards, R&D, trials and application, and bolstering the formation of globally unified 6G standards.
More efforts should be made to carry out basic research on frontier wireless technology, including new material application, millimeter wave theory and terrestrial and satellite communication, said Wu Hequan, an academician at the Chinese Academy of Engineering.