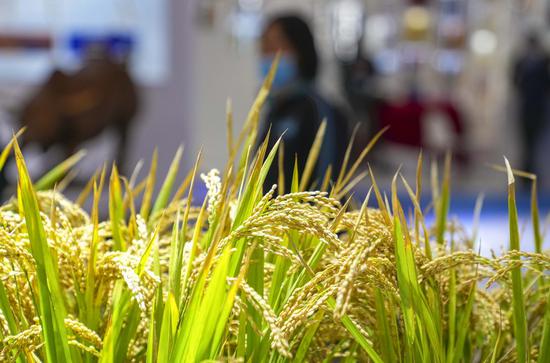 People watch samples of saline-alkali tolerant rice at the 13th China-Northeast Asia Expo in Changchun, northeast China's Jilin Province, on Sept. 24, 2021. (Xinhua/Xu Chang)
A national agricultural innovation alliance on the comprehensive use of saline soil was jointly launched by the Institute of Agricultural Resources and Regional Planning of the Chinese Academy of Agricultural Sciences (CAAS) and related units.
China is one of the countries facing the most serious salinization. In the "No. 1 central document," the first policy statement released by China's central authorities this year, the country outlined the support to transform suitable saline land into arable land in an appropriate and orderly manner.
The alliance aims to accelerate the sci-tech innovation and comprehensive utilization of saline land, and fully explore its potential for agricultural production.
The improvement and use of such land for agricultural purposes once made outstanding contribution to increasing grain output in China, said Liu Xianwu, vice president of the CAAS.
At present, the comprehensive utilization and ecological protection of saline land face a complex situation, said Liu. He called on the alliance to lead related technological innovation and make overall plans for the high-quality development of modern agriculture on saline land.